ARTIST OF THE WEEK: Hannah Wicks
Of course Hannah Wicks is good at art. She spent almost her life expressing herself visually and physically by dancing at Andres School of Dance.
But little do people know she is really good at drawing and painting, as well.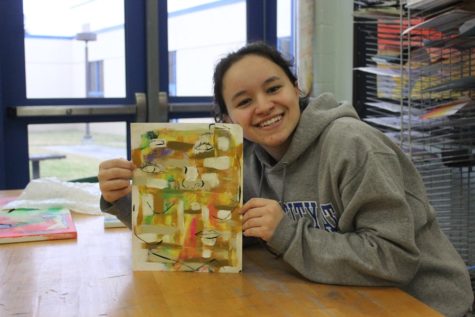 This is why she is this week's Artist of the Week.
Hannah said she has been into art since she could pick up a pencil. She said she really enjoys drawing hands, but she also likes abstract art, which has been the theme of many of her most recent paintings.
Hannah has an eye for combinations of texture, shape, and color. She demonstrates this talent through abstract painting often," said art teacher Mrs. Leah McNaul. "Personally she is a fun and outgoing person, and that personality is evident in her exploratory nature with multi-media in her paintings. She takes risks and I admire her for not playing it safe in her artwork."
Hannah said that at a young age she realized she wasn't too bad at art and thought, "Omg, I can actually do this well."
Various artists on Instagram inspires her drawing.
"Sometimes when I am stressed, I'll just paint or draw and it really relaxes me," said Hannah.
Although, she is not able to participate in art at school this year because of scheduling conflicts, she continues to work on her art at home.  She also remains Treasurer of the of the Art Club.
"Hannah has a passion for the Arts. She is not only involved in the High School Art Club, but takes Art as an elective whenever she can," said Mrs. McNaul.
Leave a Comment