SPORTS STORIES OF THE YEAR
When judging the era in which you're living, it's important to view it with some perspective. It was Sophocles who said, "One must wait until the evening to see how splendid the day has been."
For the sports teams at Bellwood-Antis, 2017-18 was splendid, indeed, but where would this era rank against the best years in B-A history? That's tough to say at this point. What we know now is that it was an incredible run.
Over a nine-month period from September through May, Blue Devil teams and individual athletes captured five team and individual District championships. They won three conference titles. They took home four PIAA medals. Some were recognized as the best at their positions in the Inter-County Conference. Others received accolades on a much wider scale.
It's hard to remember a year when more athletes achieved greater acclaim, but the interesting aspect of 2017-18 isn't just what B-A's sports stars did, but when they did it. The football team had a magical regular-season run with a team that was viewed early on as perhaps a year away from its prime, while the girls basketball team reached heights no Blue Devil hoops squad ever did with a team composed primarily of underclassmen.
So it's nice to wonder where the sports class of 2017-18 ranks all-time, but the truth is when future generations look back at the current era it's likely the year will be remembered more as a starting point than a culmination. It was good, no doubt; but it may well turn out to be a start to something much greater.
In other words, this is the beginning, not the end, of an era.
The BluePrint staff considered this when contemplating its top sports stories of the year. The teams that shined this season at Bellwood-Antis are going to shine for years to come. The athletes who starred will have their names on the marquee for one or two more seasons. They are writing the story of one of the great eras in Blue Devil sports each time they compete.
With that in mind, the choice for the top sports story of the year was an easy one because it's the one true end of an era B-A has seen for quite some time. We've included a summary of each story, along with a hyperlink to the original.
NUMBER ONE: COACH HAYES RETIRES
After 38 seasons, Coach John Hayes, a legend not only at Bellwood-Antis but across the commonwealth, decided it was time to step down as the coach of the Blue Devil football team.
Over a career that spanned parts of four different decades, Hayes posted 34 winning seasons and led teams to 19 conference championship teams. His teams won six District 6 championships and advanced to the PIAA final four three times.
In all, Hayes orchestrated 323 victories.
His retirement did more than leave a vacancy on the gridiron. Hayes also opted to step down as Athletic Director, a position he had held for 37 years.
On Tuesday, June 5, physical education and health teacher Nick Lovrich was approved by the BASD Board of Directors to succeed Coach Hayes, while history teacher Charlie Burch was named the new Athletic Director.
NUMBER TWO: GIRLS BASKETBALL WINS THE GOLD
The Lady Blue Devil basketball team had been here before, but that was almost 30 years ago, and they were unable to finish it off.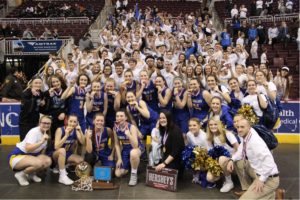 B-A was chasing history when it traveled to the Giant Center in Hershey on March 26 to play in the PIAA 2A championship game against West Catholic. No other basketball team in school history had won a state championship, but then again, few other teams had the basketball acumen of this year's Lady Devils.
Those smarts paid off late when an adjustment on a run-of-the-mill play led to Alli Campbell's go-ahead three-pointer, paving the way to B-A's 45-42 victory.
Campbell, clearly at ease on the biggest of stages, scored 24 of the Lady Devils' 25 second-half points.
Coach Jim Swaney, who had been a part of a state championship in the 80s while assisting at Bishop Guilfoyle, earned his first state championship as a head coach and later was named Pennsylvania Coach of the Year.
Tina Hollen, the team's lone senior, went out a champion, and set the screen on the winning field goal. The rest of the starting five was made up of underclassmen, three of them sophomores.
The title was just the second PIAA championship in school history after the 2003 crown won by the baseball team.
NUMBER THREE: THE ALLIE CAMPBELL PHENOMENON
The girls basketball team was loaded from top to bottom, and it's likely the Lady Devils would have competed for a District championship with or without Alli Campbell.
However, there's no denying the 6-foot sophomore point guard is a special, special talent, one unlike any Bellwood-Antis or Blair County has ever seen, and it was her skill, experience and swagger that pushed B-A to its first title.
It didn't end there. Already a national recruit, Campbell had many "Welcome-to-the-World" moments in 2017-18, firmly establishing herself as one of the top tenth graders in America. By the time the season ended she had scored her thousandth career point faster than any other B-A basketball player and been named the Pennsylvania Player of the Year.
Campbell continued to earn national recognition as well, being named the Gatorade Pennsylvania Player of the Year while earning a spot on the Philadelphia Belles AAU basketball team, a squad known for turning out Division I and WNBA talent.
Just this month Campbell added another feather to her cap when she was selected as one of 35 players to try out for the USA Basketball U17 team to compete in the world championships. While Campbell didn't make the final 12-person roster, she did get as far as the final 18.
The accolades are staggering and they keep coming: more than 25 Division I scholarship offers, a clear shot at becoming Blair County's first 3,000-point scorer, and a number one ranking academically in her high school class all by the end of her tenth grade year. Campbell is destined for greatness, and 2017-18 put that on clear display for the B-A community and the rest of the country.
NUMBER FOUR: TENNIS TITLES
Ask anyone and they would probably tell you Bellwood-Antis is a football school. Sophisticated sports fans know the track and field program is as dominant as any in the area. Basketball junkies know all about the success of the boys and girls teams on the hardwood.
But tennis?
B-A is definitely not known as a tennis power. In fact, it doesn't technically even have a tennis team. Instead, anyone from the school interested in playing must sign up to play on the co-op team with Tyrone. Practices and matches are held there, which makes just attending a challenge. There's a lot of self-motivation involved.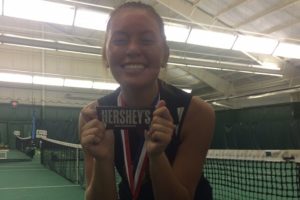 Tina Hollen and Paul Lemaire had just that, and it led the pair to District gold.
Hollen, who won her third Mountain League MVP award during her senior season, earned a bit of redemption from a disappointing District tournament in 2016-17 when she won B-A's first ever District tennis championship in October, defeating Central Cambria's Olivia Ratchford 3 sets to 1  in the 2A finals.
Last season, Hollen was forced to bow out in the semifinals after tournament officials felt she was suffering the effects of dehydration.
Not to be outdone, senior exchange student Paul Lemaire, who has been a tennis player in his native France since he was very young, teamed with Tyrone's Ethan Vipond this spring to take home a 2A doubles championship.
The duo entered the PIAA tournament, advancing all the way to the Final Four, eventually taking home bronze medals.
NUMBER FIVE: FOOTBALL TEAMS RUN THE TABLE
It's been established that the varsity football team thrived under Coach Hayes. A few notches down, Coach Charlie Burch has made a habit of developing championships on the junior high level. Coach Nick Lovrich is the third piece of the puzzle as the junior varsity coach, and his squad has by all measurements been the most consistent in the ICC throughout his tenure.
In that way, it's hard to believe the stars had never aligned the way they did in 2017 somewhere over the last ten or so seasons.
But they hadn't, and that's what was so fantastic about the 2017 campaign, when all three levels of the Bellwood-Antis football program went undefeated.
It all came to fruition during one special week as October rolled into November. It began with the junior varsity team's win over Southern Huntingdon, which allowed the team to finish with a 7-0 record.
Later that week, the junior high team topped the Rockets to go 9-0. In the process, the group gave Coach Burch his 150th career victory.
All that was left was for the varsity team to hold serve in a showdown on the road against once-beaten Northern Bedford.
Touchdowns from Shawn Wolfe and Eric Morder stood up, the Blue Devils left Loysburg with a 14-7 victory, and history was made for a football team enshrouded in tradition.
NUMBER SIX: CONLON REACHES MILESTONE VICTORY
Steve Conlon started his career as the coach of the Bellwood-Antis baseball team by winning the PIAA 2A championship in his rookie season in 2003.
Hard to top that.
After 18 seasons, it's clear Conlon isn't trying to one-up himself. Instead, he's busy leading one of the most consistently successful programs in Central Pennsylvania.
In 2018, the Blue Devils reached the District 6 2A championship game for the third time in the last four seasons, just one year after advancing all the way to the PIAA final four. There's now a level of excellence that has become embedded in the program, an expectation that breeds success.
Create a program like that, and the accolades are bound to follow, accolades like career-milestone victories.
That's what Conlon achieved on April 23 when the Blue Devils steamrolled Glendale in a double-header. The first win that day, a 16-0 whitewashing, gave Conlon his 200th career victory.
Those wins brought the Devils' record to 7-1, and 11 more followed as Conlon posted his tenth winning season.
The Blue Devils pursuit of a PIAA championship continues after a win in the first round of the state tournament earlier this week.
NUMBER SEVEN: TRACK DOMINANCE CONTINUES
This is what the Bellwood-Antis track and field team does under Coach Nick Lovrich.
For the tenth time in eleven seasons, the Blue Devils won the ICC regular season championship. It was the sixteenth ICC championship under Coach Lovrich, who took over for Ken Swanson in 2000.
A week after clinching the regular season title, the team collected its ninth ICC Meet championship in the last 11 years.
Perhaps more impressive, the Devils ran the table and finished the season 15-0, the eighth undefeated season under Coach Lovrich, and the fifteenth in program history.
Athletes in four different events advanced to the state meet for B-A, including District 6 2A triple jump champion Clay Engle, who went on to win bronze at the PIAA championships, and District 200 meter champion Shawn Wolfe.
NUMBER EIGHT: THOUSAND-POINT SCORERS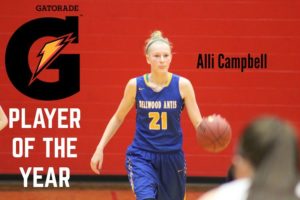 Alli Campbell did it faster than any B-A player ever, but she wasn't the only hoopster to make it into the thousand-point club in 2017-18.
Blue Devil senior Trent Walker hit the mark in January, becoming the tenth Blue Devil player to reach the milestone.
Walker continued an incredible run for prolific scorers in recent B-A basketball history. Since 2012-13, four players have scored 1,000, adding to a list that includes Trent's uncles, current coach Kevin Conlon and former assistant Steve Conlon, as well as former varsity head coach Brent Gerwert.
Not to be outdone, Campbell reached the benchmark a week later, needing only 48 varsity games to get there.
Campbell joined a group of 11 girls players that is headed by former teammate Karson Swogger, who scored 2,050 points from 2013-2017.
She finished the season with 1,345 career points, while Walker ended with 1,227.
NUMBER NINE: D'ANGELO NETS 50th
It was a long season for the girls co-op soccer team, which combines players from Bellwood-Antis and Tyrone.
The girls won only two games, and scoring opportunities came at a premium.
That didn't stop junior Riley D'Angelo from stamping her name in the record book. In October, in a 5-1 loss to Hollidaysburg, D'Angelo scored the team's only goal, allowing her to reach 50 for her career.
D'Angelo scored 20 goals as a freshman and followed that up with 21 her sophomore season.
She will enter her senior season with the program record of 76 career goals in her sights.
At the end of the fall sports season, D'Angelo was named a Mountain League all-star.
NUMBER TEN: BLUE DEVILS WIN THE BRAWL
It had been four seasons since the B-A football team had won the Backyard Brawl, its annual season-opener against rival Tyrone.
It looked like the Golden Eagles' streak would run to five in a row after Tyrone kicker Ethan Vipond drilled a field goal on Tyrone's first possession of overtime in August, but Shawn Wolfe had other plans.
On B-A's first play after the go-ahead kick, Wolfe took the snap from center, broke containment rolling left, and dove into the end zone for the game-winning touchdown in the Devils' 13-10 victory.
The play paved the way for a perfect season for the Blue Devils.