Best and Most Anticipated Games of 2019: So Far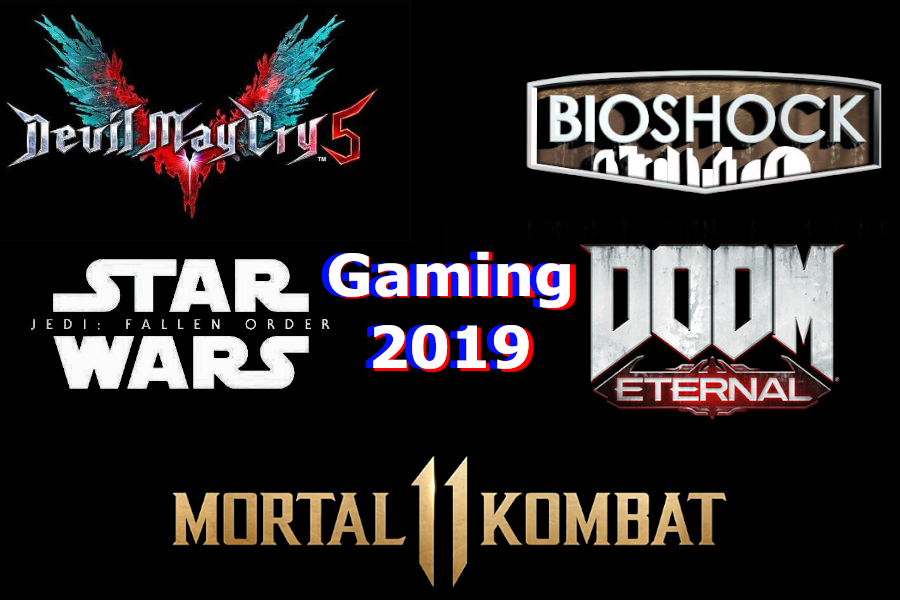 Mortal Kombat 11: release date – April 23, 2019
Mortal Kombat 11 is the most recent game in the series to be released by NetherRealm Productions. Created by Ed Boon, Mortal Kombat 11 is one of the most violent videogames to be made, with a brand new system of fighting, as well as both new and old characters, and a new storyline to follow the events of Mortal Kombat X (2015). For more information, go read "Mortal Kombat 11: What you need to know." Click here.
Devil May Cry 5: released March 8, 2019
The Capcom developed hack and slash is the fifth instalment of the DMC series. Per the series, this game is focused around the characters of Dante, Nero, and a new character known as "V." Just like the previous games, DMC 5 makes the player take on hoards of demons with an arsenal of weapons and a certain level of skill needed to mix the variety of moves, the length of the combos, and dodging. Devil May Cry 5 takes place five years after the events of Devil May Cry 4. A number of fans thought that after Devil May Cry 4: Special Edition sales didn't meet expectation. But the creators confirmed that a new "photo realistic" graphic style game was in development. DMC 5 was initially designed to be released in 2017, but because of Resident Evil 2 remake led it to be pushed back to 2019.
Star Wars: Jedi Fallen Order: release date Autumn/ Fall 2019
This game from Respawn Entertainment is a "new action adventure game which tells an original Star Wars story around the surviving Padawan set shortly after the events of Star Wars: Episode 3 – Revenge of the Sith." As of right now we do not know much about the game, but on April 13th, 2019 at Chicago's Star Wars Celebration it will be revealed. The official Star Wars site has confirmed that this will be a singleplayer-only game, unlike Respawn's first Titanfall game was a multiplayer game, and it will feature lightsaber duels. It is also going to be a third person game since Stig Asmussen, who previously worked on the God of War Playstation series, announced back in 2016, that he was working on Respawn's Star Wars project.
Doom Eternal: release date December 28, 2019
Doom Eternal is the sequel to the award-winning and best-selling  Doom 2016 by Bethesda Softworks. It is "ultimate combination of speed and power as you rip-and-tear your way across dimensions with the next leap in push-forward, first-person combat." In Doom, you play as the DOOM Slayer where you take control of the powerhouse of a slayer. "DOOM Eternal puts you in control of the unstoppable DOOM Slayer as you blow apart new and classic demons with powerful weapons in unbelievable and never-before-seen worlds." Doom 2016's slayer was a character of immense power. Doom Eternal's Slayer 2.0 has "updated armor and an arsenal of new and improved equipment, including a shoulder-mounted cannon with flamethrower, extendable blade, and a new dash ability, you're faster and deadlier than ever. Destroy every demon in your path with an upgraded array of guns and mods, including the Super Shotgun's new Meat Hook attachment to pull yourself point blank with the faces of hell."
You get to "RIP MORE, TEAR MORE" as you obliterate more demons than ever before. "DOOM Eternal's 'destructible demons' system takes your power fantasy to new levels by ensuring that every trigger pull has never felt better."
DOOM Eternal's new play style allows for actual, real-life players to invade your campaign as demons for a dramatic and unpredictable twist anytime you're playing the campaign. Even while playing as the slayer, you can "join the ranks of the damned and become a demon yourself. Invade others either by yourself or with another player, as part of a hunting party, to give the Slayer a true taste of Hell."
Bioshock 2019: release date TBD
"A man builds a city at the bottom of the sea. That's a marvel. Another man happens to be on a plane that crash lands on the same city in the middle of the ocean. Why, that sounds more like… A miracle." – Andrew Ryan, Bioshock.
Bioshock 4, or Bioshock 2019, is as of right now a speculation only game. It is one of IRRATIONAL GAMES/2K GAMES's biggest secrets right now. We have no idea if the game is even being made, that's how secret it is right now. We know that the developers of Bioshock are likely to and almost guaranteed to make the new Bioshock game in the similar fashion to 2k's juggernaut game 'Bioshock: Infinite.'  If this game does truly exist, then we will see something about it at E3 in June.