B-A overpowers Northern Bedford in the second half
Last Friday the Blue Devils traveled to Northern Bedford to take on the Panthers for a week one football matchup.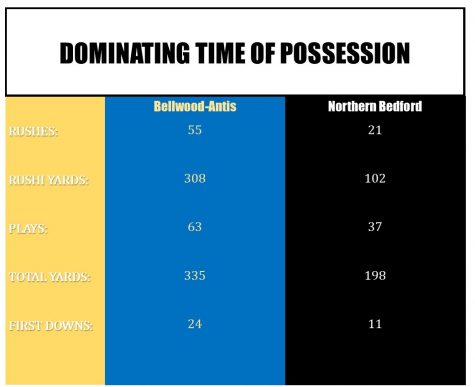 B-A dominated possession of the football, running nearly 20 more plays than Northern Bedford, eventually wearing down their ICC foe in the second half of a 36-14 victory before a sparse crowd made thin by COVID-19 restrictions.
While no B-A fans were permitted to attend in person, they were able to stream the game on the internet through NFHS Network.
The Blue Devils gave up a touchdown on the first drive of the game, but they immediately bounced back with a touchdown of their own coming from senior tailback, Zach Mallon.  
The Blue Devils kept the strong energy going through the second quarter after a 45-yard punt return from Connor Gibbons set up a 1 yard touchdown run for senior halfback, Joe Dorminy. 
Zach Mallon racked up his second touchdown with a 13- yard rush right before half putting the Blue Devils up 19-14.
The second half proved to be a strong one for the boys as they scored 17 unanswered points to secure the victory. 
Zach Mallon, and Connor Gibbons each scored a touchdown in the second half, followed by the game ending safety by Dominic Caracciolo. 
Rushing leaders for BA: Z. Mallon-  3 TD 151 yards, C. Gibbons- 1 TD 90 yards, J. Dorminy 1 TD 52 yards.
After a strong week one win the boys prepare to take on Everett at home this Friday.