FEATURED ALUMNI: Jason Lamertina
Bellwood Alum Jason Lamertina, Class of 1989, used to run touchdowns at Memorial Stadium, and he's still running! Jason started his own personal training business in Central Florida at Celebration Fitness Center back in 1998. 
"I quickly discovered that the people in real need of improving their fitness and overall health were intimidated by the gym atmosphere.  So I took the necessary steps to begin a private in-home training service," says Jason.
After graduating California University of Pennsylvania in 1993, Jason worked for a short three years in the PA Fish and Boat Commission.  During rehab from a horrible car accident in 1995, Jason became very interested in helping others achieve better health and fitness.  To reach this goal he became certified through the National Strength and Conditioning Association as a Personal Trainer and Strength and Conditioning Coach (CSCS).
"Becoming certified with a quality institution was the biggest step I've taken," says Jason.
It was a risk, and the stakes were high because Jason had left his hometown, but moving more than 1,000 miles away from the small town of Bellwood didn't seem to be a hard choice for Jason.
"I visited Florida in January 1994 and it was 23 degrees in Bellwood when I left," he said. "I drove 16 hours to 75 degree weather and blue skies! I went back to Bellwood, packed my things up, and a week later headed back to Florida to give it a shot. And I'm glad I did just that!"
It's not easy to "make it" in the health and fitness industry, and not everything came easy to Jason. After establishing himself he not only adapted to a stock market crash but also a national pandemic.
The 2008 stock market and housing crash had a significant impact on personal trainers, and this very event forced Jason to improvise and think outside the box. He turned his garage into a gym and began training a few clients there along with maintaining his regular clientele from home.
"
It's a fantastic feeling to wake up everyday knowing you have an opportunity to make a change in someone's life.
— Jason Lamertina
"Group training allows for personal training to become more affordable for everyone, so that was also an alternative to keep business running," says Jason.
The warm weather in Florida is great; however, it's not enough to keep Jason from forgetting about the small town he came from.
"Other than having a fantastic childhood and knowing the meaning of true friendship, growing up in Bellwood has allowed me to stay humble.  I always remember where I came from and the people who impacted my life from Bellwood that got me here," says Jason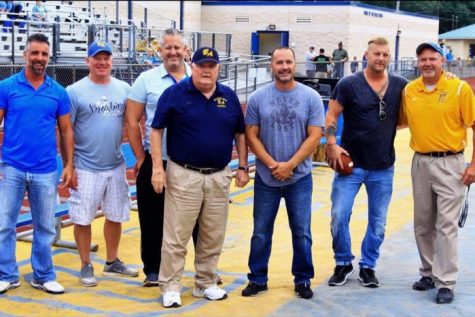 Jason represented Bellwood-Antis greatly as a star athlete and student. His senior season the Blue Devil football team won the District 6 2A championship and advanced to the PIAA semifinals in the first year a state playoff system was offered in Pennsylvania, and Jason had 581 receiving yards. He was also the team's scoring leader with 107 points.
He was also a starter on the B-A baseball team that played in the state championship game in 1989.
Since then Jason has only continued to make the community proud, but he could not do it on his own.
"There are many people responsible for my successes, and many who have taught me valuable life lessons that I would like to acknowledge," he said. "A few that have had an impact on me through my days living in Bellwood would be my coaches John Hayes, Todd Guyer, Danny Geis, Mike Plummer, Jeff Plummer, Bob Garland, my senior year workout buddy Jim Morder; my grandmother Ellenburger, and of course my fantastic mother Debbie Pulcinello  and step father Frank Pulcinello."
Bellwood resident and longtime youth sports coach Jeff Plummer remembers Jason very well.
"Jason is a great kid and a great person.  Very hard working in developing his skills," Jeff said.  "His youngest years in athletics, I would have to say he was smaller in size than most his age but he was blessed with natural skills, agility and he loved sports so much that what a lot of athletes call hard work, was actually his kind of fun. Everything he did, no matter if it was a contact sport or some fun, made up a kind of game or activity he and his buddies would dream up… he always played to win and usually did in spite of a size disadvantage. He loved competition." 
Today, "Lambey" still loves the competition. The only difference is, is Jason is now focusing more on helping others with their goals rather than his own.
"I love to see the positive changes in my clients!  Seeing them Becoming healthier, leaner, more athletic, more active, gaining more confidence and self esteem, who wouldn't love to be the catalyst for change like that," Jason said. "It's a fantastic feeling to wake up everyday knowing you have an opportunity to make a change in someone's life." Says Jason.
In spite of all the obstacles, Jason's business has prevailed and continued to prosper. We wish Jason the best of luck, and we hope he continues to make Bellwood proud!