B-A football dominates again
Last Friday, the 7-0 Blue Devil football team traveled to Mount Union to take on the 4-2 Trojans. Needless to say, the Devils remained undefeated with an overwhelming shut out triumph, their fourth this season.
The Blue Devil defense, special teams, and offense contributed to the first quarter scoring with a safety 55 seconds into the matchup, a 36-yard punt return by Connor Gibbons, and a 28-yard pass from quarterback Zach Pellegrine to wide receiver Sean Mallon to make the score 16-0 after the first. The singe score in the second by Gibbons would make the score 23-0 at the half.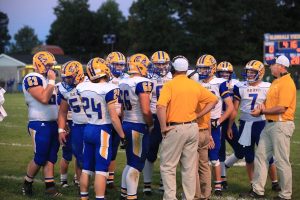 "I put forth my best effort every time I step on the field," said Gibbons, regarding his stellar performance. "I do everything I can to help my team."
Gibbons racked up another touchdown in the third and two more scores, one from Cooper Guyer and a pick-6 by Brandon Cherry, would make the score 43-0 before a 1-yard run for a touchdown from freshman Tanner Swogger made the final score 49-0.
B-A remains the first seed in the ICC as well as District VI AA standings, while Mount Union fell to a record of 4-3 and fifth in the ICC standings.
"We have had a total team effort that contributed to our success," said head coach Nick lovrich, regarding his team's performance. "Each one of our players is trying to become the best possible individual that they can be to make our team the best. We think of the season as a journey and our goal is to get better every week that we play.  The guys have been working very hard and we have seen improvement from the group as a whole and that has what has been fueling our success."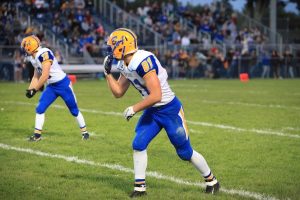 B-A has not yet been severely tested so far this season, with victories by copious amounts week after week. But perhaps their true test will be this coming Friday when the Devils host the Juniata Valley Green Hornets, who only have one loss on the season.
"This will definitely be the biggest game of the regular season," said senior fullback/guard Cooper Guyer. "It will very likely decide the ICC champion, so we will have to come prepared. They have a lot of talent on their roster."
The 8-0 Devils host the 6-1 Hornets this Friday at Memorial Stadium.