ATHLETE OF THE WEEK: Blake Pennington
Blake Pennington is an 8th grade superstar when it comes to cross country.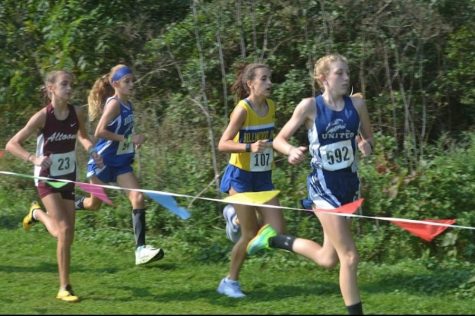 Although Blake isn't old enough to compete on the varsity cross country team yet, she is ready to join the team next year. So, Blake was given the opportunity to run with the Blue Devils at their meets. Although she had to follow some guidelines set by the PIAA, Athletic Director Mr. Charlie Burch and Coach Connor Hunter were able to work things out for her to get the opportunity to run at some events.
Three weeks ago, Blake was a top 5 finisher among junior high girls at the Blair-Huntingdon Invitational in Altoona.
For her efforts, Blake has been named the BluePrint's Athlete of the Week.
Blake has high hopes for herself for her running career, aspiring to break personal records and to some school records set by Ellen Crook. Crook holds B-A's girls cross country record after finishing the 5K run in 19;34 in 2013.
Most importantly she is excited to be a part of the team.
Pennington said she has been running since she was 5. She gives credit to her mom, who inspired her to start doing races with her. 
Pennington has also run competitively for the Mountain Top XC and Track Club for the past two years. The club is based out of Cresson, Pa, and  run by Lois Smith. Blake says it is super fun, and she has traveled to a bunch of different meets for the club.  
To prepare for such a challenging schedule, Blake has intense training routines all year round. In season she runs 12-15 miles every week, and also lifts twice a week. In the offseason, Blake tries to run 2-3 times a week while also playing basketball. 
Blake already has plans for going to college. She hopes to run in college and beyond, but her dream is to run for the University of Pittsburgh someday.
In her spare time, Blake plays basketball in the winter, and she also likes to read, cook, bike, and hangout with friends and family. Her best subject in school is math, and it is also her favorite subject. 
Congratulations to Blake Pennington for being named Athlete of the Week.