Life Skills Classroom sponsoring Thanksgiving bake sale
Proceeds will fund community based instruction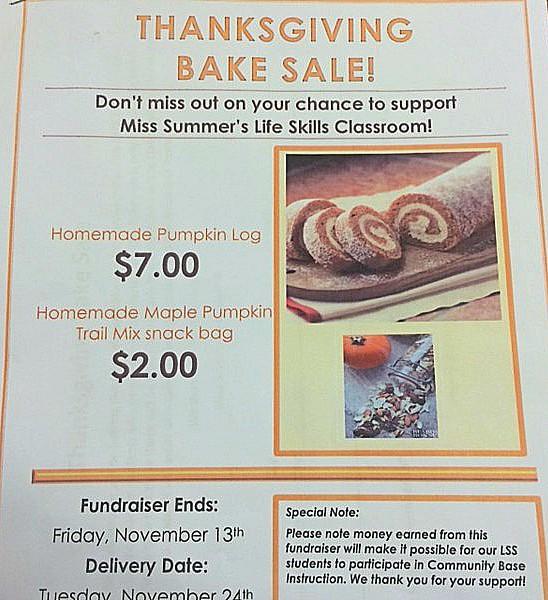 It's sweet, it's yummy, and it's homemade.  What sounds better than that, right?
"
All of the money that is collected will make it possible to participate in Community Based Instruction.
Don't miss this amazing opportunity to help support the Bellwood-Antis Life Skills Classroom, which will be holding a Thanksgiving Bake Sale that is only open to the faculty and staff of the district.
This fundraiser contains two delicious homemade snacks.  The first, is a pumpkin log, which is at a nice price of $7.00 per log.  The other is a homemade maple pumpkin trail mix snack bag, which comes at $2.00 per bag.  All of the money that is collected from this fundraiser will make it possible for the Life Skills Classroom to participate in Community Based Instruction (CBI).
"When considering Community Based Instruction, it is very important for the classroom in which I teach," said Life Skills Classroom teacher Summer Carson. "Therefore, it is very important that my students have this experience each school year. So to help with costs, our proceeds for this sale will help with CBI for my classroom."
Students in the Life Skills Classroom will be playing a big part in the fundraiser.
"Their jobs will be creating an excel spreadsheet to keep track of those who order, the amount they order, and total sales," said Mrs. Carson. "My students will also assist with packaging and delivering of the rolls. When considering baking, this will be done mainly after school hours, so the students will not be assisting with that task. However, keeping up with the orders and packaging will be quite the task for them!"
The campaign  will begin Friday, November 13 and the planned delivery date is set at Tuesday, November 24.  The money for this Thanksgiving Bake Sale will be due the same day as the   delivery date.
"I would like to thank those who plan on supporting my classroom when thinking about CBI," said Mrs. Carson. "This is a major part of our curriculum, and we will continue to be having fundraisers throughout the school year."