B-A alumni shine on college hardwood
Hollen and Davis are both starting on Division II level
November through February, is a time period solely meant for basketball. And lately basketball is what Bellwood-Antis does best.
Currently, two B-A alumni are playing ball in college: Noah Davis and Ana Hollen.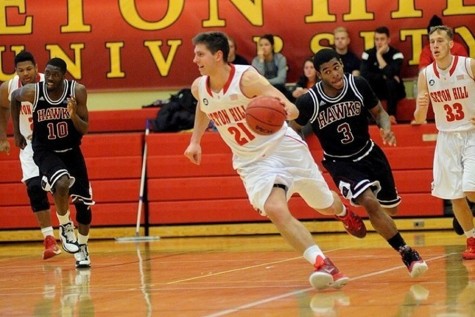 Noah, class of 2013, is a junior at Seton Hill University. Playing a limited role as a freshman and as a rotational player his sophomore year, Davis is now a starter for the Griffins, which play in the tough Pennsylvania State Athletic Conference (PSAC). He averages 11.3 PPG, 2.1 RPG, 1.6 APG, and 24.0 MPG. All of this while maintaining a 4.0 GPA.
"We are now 5-8 which is an improvement from last year," said Noah regarding his teams' performance.
Anyone who has met Noah knows he is a hard-working kid with a never-say-die attitude. He will continue to improve his game, so don't be surprised if you hear about him more.
Ana, class of 2015, is a freshman at the University of Pittsburgh at Johnstown. She is the starting point guard for the 7-11 Mountain Cats and plays the most minutes among freshman in the PSAC with 29.2 per game. She averages 10.0 PPG, 3.8 RPG, and 2.7 APG.
Just this past week, Ana was named the PSAC West Freshman of the Week.
"
Balancing sports with school is definitely a grind. It pushed my limits physically, and mentally things went completely over my head.
"I love my team. We are really close," Ana said. "Our record isn't great but we are in every game. A lot of it has to do with the fact that we are really young."
The freshman year is a learning experience for everyone. You never know what to expect or how to handle the chaos that is going on.
"Balancing sports with school is definitely a grind. Basketball pushed my limits physically, and mentally the things I was learning went completely over my head. I crawled myself out the hole I was in and finished with a 3.5 GPA," said Hollen. "College is a lot of trial and error."
So all in all, it appears that two Blue Devil basketball alumni are succeeding in college, both academically and athletically.