PJAS finalists move on to states
Over the weekend Bellwood-Antis had five students who participated in the Pennsylvania Junior Academy of Science (PJAS) Region 3 competition at Penn State-Altoona. Sophomore Hannah Hornberger, senior Kerri Little, and freshman Quintin Nelson earned first place finishes, winning a trip to the state competition.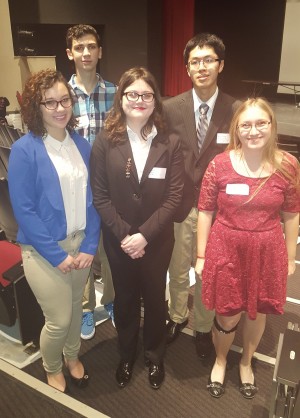 At PJAS, students present a project and slide show in front of a panel of judges, then are evaluated and have a chance to go to a state competition.
Junior Amanda Baldwin was awarded a third place finish, and classmate Devon Zheng took second.
Hannah's project tested if age affected the success of lies and what makes a good liar.
"I'm pretty excited to go to states in my, but I've been doing this project for months and I'm so done with it," said Hannah.
Quintin's project was a complex probability and the chances of winning a plinko board.
"Overall, I felt pretty confident in my presentation. Even though I was pretty nervous, because it was only my first year.  I am very excited for the state competition in May," Quintin concluded. "I wasn't expecting to do it in my first year."
Kerri tested to see whether non-millennials had a harsher perception of millennials than millennials themselves do using an online survey.
"I have been able you go all four years of high school and I'm sure this year will be just as fun as the past," Kerri said.
Amanda did her project on "Does Labeling and Advertising Affect How a Product Tastes." Devon's was on "What Makes Ice Melt Faster."
The state competition will be hosted in May at The Pennsylvania State University over a three day period of the 15th-17th.  We wish our students Hannah, Quintin, and Kerri the best of luck!