The coolest place in school
New media center will change the way students think about free time at B-A
Bellwood-Antis High School recently added a Media Room in the  library. The Media Room contains a lounge room and Café, and it is wi-fi accessible.
Students are allowed to use electronic devices with permission while in the Media Room.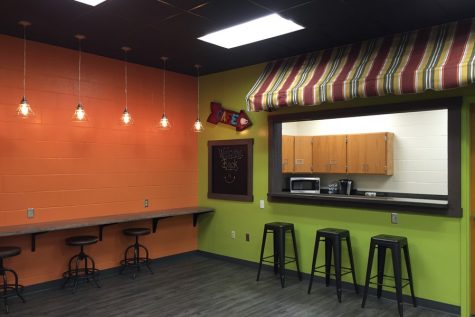 Mr. Richard Schreier, the high school principal, said the Media Room's main purpose was "to get students into the space and use it as a collaboration space without the hush-hush quiet library."
He said teachers and staff want student to have a place to relax and work in groups.
Mr. Schreir also said, "We want the library to be used more than once or twice by students a day. We want the kids to be able to be working and grab a snack, and know that its ok."
Mrs. Jamie Forshey, the B-A Media and Technology Coordinator, said she has wanted something like this at B-A for a long time.
"Transforming our traditional library into a more modern space that has the look and feel of a Barnes & Noble/Panera has been a vision of mine for a number of years," she said.  "Moving forward with technology in these ways has generated a lot of excitement in our district, and I'm thrilled to be a part of it! Thanks to the support of the administration, School Board, the Foundation, and especially to the work of Dan and Crystal Himes."
"
It's a cool place to hang out, be on your phones, and be social.
— Kamryn Mercer
The students seem to enjoy it, too. It was opened for before-school breakfast last week, and this week opened for use during study halls.
Kamryn Mercer, a Bellwood-Antis junior, said, " It's a cool place to hang out, be on your phones, and be social."
"It's a room at school where you can have fun," added classmate Shayla Branstetter.
The Media Room was funded and sponsored by the Bellwood-Antis School District Foundation.
Last year, a team from Bellwood-Antis including Mr. Schreier, Dr. Tom McInroy, and Ms. Forshey visited a school in western Pennsylvania called Elizabeth Forwardt. That school contained a media center from which the basic idea came from.
Beyond fun and socializing, students will work in the café, with life skills students managing some aspects of food service.