SPORTS ROUNDUP: Bartlett wins at Tyrone
Junior Jenna Bartlett continued her dominance on the cross country trails yesterday in Tyrone, winning the overall girls race with a time of 25:52.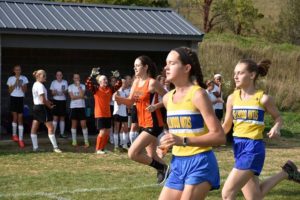 It was the big highlight of the day for the Devils' cross country teams, which dropped both the boys and girls meet to their rivals.
Robert VanKirk and Jake Miller finished three and four for the Devils, who fell 21-36.
On the girls side, Adisyn Gilbert finished in third place but the Lady Eagles claimed four of the top six spots in a 26-29 loss.
Volleyball extends winning streak
Sydney Lechner continued her solid passing play against Moshannon Valley last night in Bellwood.
The sophomore picked up 18 assists throughout the game as the Lady Blue Devils won in three sets.
Bella Kies was also instrumental in the win as she picked up 4 aces to go along with 9 service points, though senior Alexis Parson led the team in that category with a stellar 13.
Bellwood-Antis won all three sets by a margin of at least six points. The first set ended in a B-A rout 25-9, the second 25-19, and finished out the game 25-16.
The Lady Blue Devils (6-1) will return to action against Mount Union Tuesday at 7:00.