LESSONS FROM THE MAN UPSTAIRS: Be relentless
If anyone knows me well enough, they know I love running. I have such a fervent (look at me using those vocabulary words) passion for it. In addition, my dad and I love watching marathons on TV. This past week, the New York City Marathon was on and we watched all three hours of it; it was glorious, might I add. No world records were broken; HOWEVER, Shalane Flanagan won the women's race in 2 hours and some minutes, the first American woman to win in 40 years. 40 YEARS! Every year, the Kenyan and Ethiopian people beat her out, but not that day!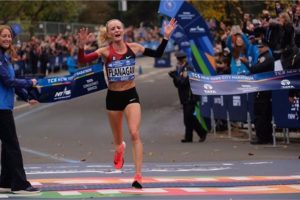 Later, I was scrolling on Instagram and Flanagan had posted a picture of herself at the finish line, as you see there, and she had a caption that read, "A lifetime of work for this moment, it was worth it, be relentless."
That truly stuck with me. Be relentless. I wrote it on a sticky note and put it on my desk at home where I could see it everyday before I go for my own run. Sometimes, it's so tough to keep pushing on when you feel like giving up and throwing in the towel. However, sometimes, things take a lifetime to fall all perfectly into place. High school is rough; there seems to be no light at the end of the tunnel. But there is! Shalane Flanagan proves it! It took her years and years and years to win the NYC Marathon, but she came out and did it! If you want something so bad, you have to be patient. Results are not going to come over night—results might not even come in weeks or months. But if you want it, if you just keep pushing on and giving it everything you have, the results will show.
Let me tell you, I'm not a huge fan of lifting. I mean, I like it, but I simply haven't seen the results I've wanted. But I've told myself, I refuse to let this get me down. I'm going to be relentless, and I want you to do the same.
There's nothing better than that feeling of making it, of proving everyone wrong and getting the results—there is absolutely nothing better. When I saw my dad run across the finish line at the Harrisburg Marathon this past weekend with his PR on that course, AND qualify for 2018 and 2019 Boston, I knew there is absolutely nothing better than seeing work pay off. You can do anything, be relentless.
John 20:29 — "Then Jesus told him, 'you believe because you have seen me. Blessed are those who believe without seeing me.'"
Leave a Comment