Alumni Chorus Surprises Bower and Wright
Former Students Return to Sing with Retiring Music Teachers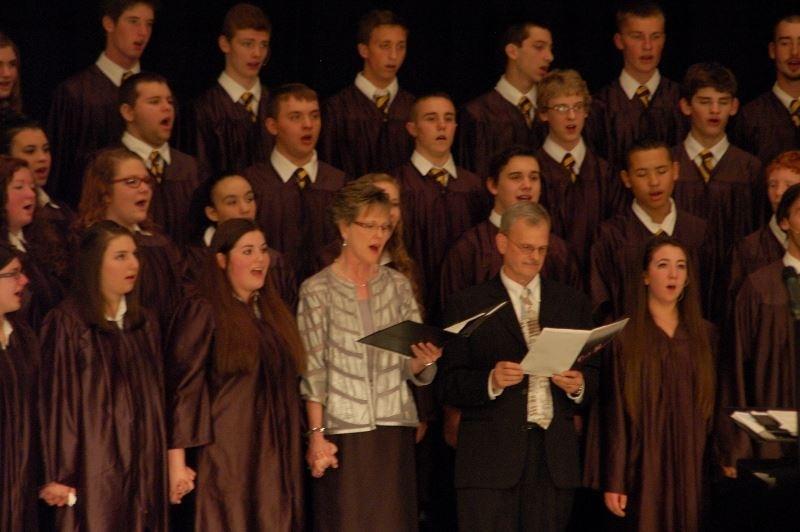 Two legendary music teachers had the surprise of a lifetime onWednesday, May 21st.  An Alumni Choir, organized by students and a former chorus member, paid tribute to Mr. Bower and Mrs. Wright during the High School chorus concert.
Seniors Mara Lundberg and Katelyn Shaulis came up with the idea to gather the past chorus members and Katie Belis, Class of 2007, made it happen from a logistical standpoint, spreading the word without Bower or Wright's knowledge.
"Mr. Bower is like a father to me," said Lundberg.  He has been a true inspiration.  Mrs. Wright helped me love music since I was in kindergarten. She has been with me for 13 years.  They are amazing people and true inspirations."
Alumni joined the chorus members in the song, "Like An Eagle", which has become the quintessential song for Bower's students at choral concerts and graduation.  When the song was introduced, B-A alumni spread throughout the audience rose and joined in singing the song.
"It was such a bittersweet experience to be able to come back for Mr. Bower's last concert. It was just as sad to sing "Like An Eagle" last night as it was at my last concert," said, Amanda Grannas, who graduated in 2011.
"It was a whirlwind of emotions. It was amazing to see how many people came together to support the two of them. They both were major influences in my life and my love for music so it was great to celebrate them and their careers through this concert," added Alssya Broome, who graduated in 2012.
"Mr. Bower impacted so many people's lives, and it was amazing to see recent alumni as well as people who graduated 20 years ago come together and thank him," said Emily O'Shea, a 2009 B-A graduate. "Mr. Bower and Mrs. Wright made the music department successful.  They sacrificed a lot to make each performance that's been on stage happen, and I know everyone in the school as well as the community appreciates everything they've done."
Even Mr. Bower and Mrs. Wright's older students had something to say about their last concert.
"Now two people were more passionate for their career than these two. Their hard work seemed effortless when I know managing 100+ wild teenagers must be maddening.  The sacrifices they made above and beyond helped shape many lives, with respect to the arts and live in general," said Kara Kimberly, who graduated in 1993.
"Both Mr. Bower and Mrs. Wright are the type of lovely souls which the world hardly sees any longer. They stand firm in their faith, their passion for music, and they live life itself in such a way that you are honored just to be part of it. Although it was an honor to be a part of their choirs, musicals, and other programs, it was much more of an honor to have them as friends," said Tabi Melhorn, who also graduated in 2011.
The recording of  "Like An Eagle" has already made its rounds on Facebook and can be viewed on YouTube using the link shown above.
Mr. Bower and Mrs. Wright's will retire at the end of the year after careers that spanned more than 30 years. They have touched many lives for people who had showed up to the concert and for the people who didn't.