In Caracciolo, the Devils have lost a crucial part of their football team
For most senior football players, the end of their season is a tough loss in the playoffs.
For Bellwoood-Antis senior Dominic Caracciolo, it's more painful than that.  Dominic didn't even get to finish the regular season.
Now playing in the semifinal round of the District 6 2A playoffs, the Blue Devils are are missing him when they need him most. No. 2 B-A will take on No. 3 Richland at Memorial Stadium Friday, but it will do so without Dominic. A major part of B-A's offense and defense  for three seasons, he is  out for the rest of the season with a knee injury.
"It was very unfortunate that Dom had his accident, not just for us as a team, but for him as an individual," said Blue Devils' coach Nick Lovrich.  "He has been a big part of our success, so it was a big loss for us on the field, but off the field, too.  He is exactly what you are looking for as a senior leader."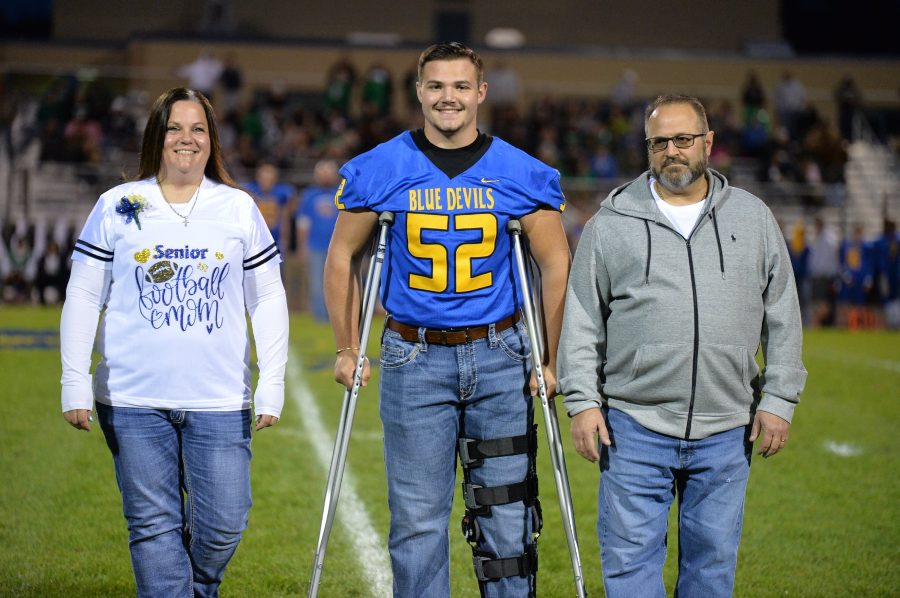 On October 10, Dominic was in a serious dirt bike accident, suffering a laceration to his kneecap. He has been riding since he was five years old, so this was just a normal day on the trails near his home in Riggles Gap. The difference this day was he had bought a new back tire for his bike and wasn't used to it. He lost traction while popping a wheelie and went too far back; when he landed his knee split on a rock.
"
He has been a big part of our success, so it was a big loss for us on the field, but off the field, too.  He is exactly what you are looking for as a senior leader."
— Coach Lovrich
Dominic was rushed to the Tyrone Emergency room where doctors tried to clean the wound and was released from the ER the same night. The next day he noticed an infection spreading up his leg, so he was rushed to Pittsburgh Hospital where he had to stay for six days.
This is where things got dangerous for Dominic, who could have lost his life or limb from the spread of infection. Doctors performed not one but two emergency surgeries to finish getting the infection out. He was hooked up to a Wound Vac for four days, helping to close the wound because doctors weren't ready to stitch him up yet. It also helped drain the fluid caused by infection out of his leg.
"The hospital stay was hard on my entire family," said Dominic. "I wouldn't say it affected my parents too much, but they did an amazing job helping me through this, and I couldn't do it without them."
Dom has stayed positive in spite of his diagnosis.
"I would never say this is a set back. It's not a set back unless you think it is," he said.  "This entire event has been a huge learning experience for me."
In Dominic's honor, the football team has put a number 52 decal on its helmets to represent their support and show Dominic that they are there for him not only as a teammate but also a brother.
Though he played only four games before the accident, Dominic had already racked up 5 tackles for loss and 4 sacks, so his presence on the field was important; however, Coach Lovrich said Dominic's leadership is one of the most essential things the team could have lost with the injury, but he continues to be a part of the team.
"He has earned the respect of his teammate by the way he treats them and carries himself," Coach Lovrich said. "He has been a positive person on our team for his entire career.  He is still out there pulling for his teammates and being that positive influence on them."
For his part, Dominic said he appreciated the support from his team and coaches and that the decals on the helmets show "how strong the team bond is, and that it truly is a family."
Dominic is a multi-sport athlete at B-A, but because he wasn't planning on playing other sports this year, the injury ends his high school career,though he does have hopes of playing football in college.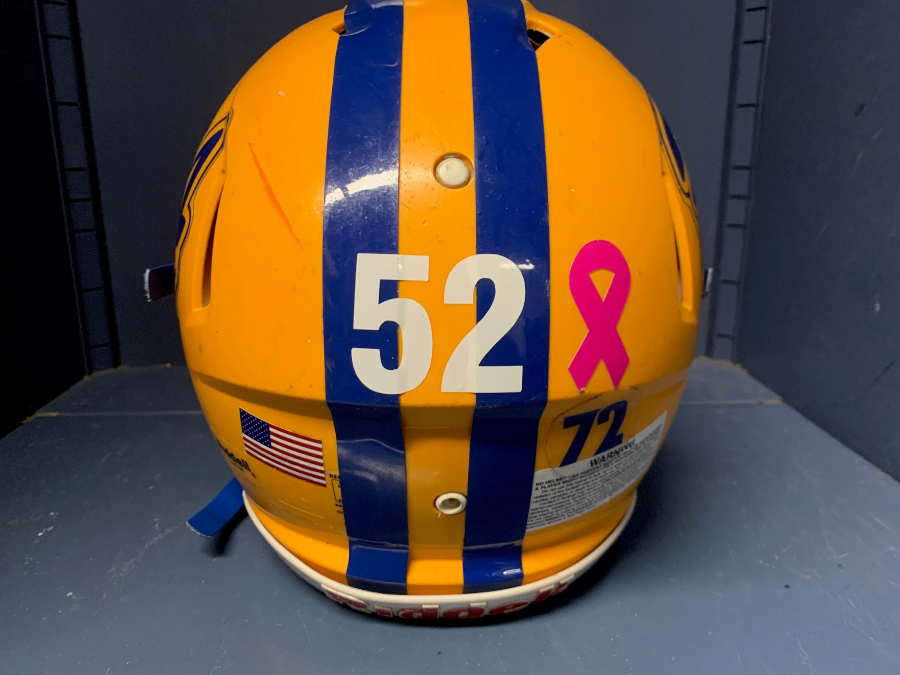 Teammate Aarron Laird said the hardest part of the injury for the Blue Devils has been seeing him miss the rest of his senior season.
"This was a pretty serious accident, so for Dom just to be able to stand on the field with his team is a big deal," Laird said.  "I'm glad he can just be out there with the team. He is still part of the team and more importantly our brother."
Dom has built many relationships over his four years on varsity, but one of the big ones is with Coach Lovrich. However, in Coach Lovrich's eyes, Dominic has made as big an impression on himself and the team, one that is not easily replaced, which is why he is so sure this painful event won't hinder him down the road.
"I know that Dom will get through this bump in his life and it will make him stronger for his future," Coach Lovrich said. "That speaks a lot of the character that he has and the type of person that he is"