FFA members advance in speech contest
Aubree Reiter nabs first while Abie Boutiller takes third
Two BA speakers are advancing to the area championships after winning their categories at the Blair County Public Speaking Contest Wednesday in Tyrone.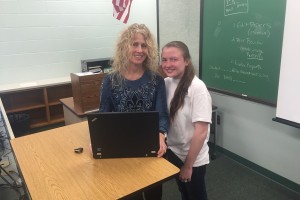 Aubree Reiter, a sophomore, spoke on the Importance of Game Wardens and took first. Senior Abie Boutiller spoke on the Importance of Agriculture Education to Society and took third.
"Students gained career skills through this contest by being able to present a topic in public that they felt strongly about," said Mr. Matthew Webreck, FFA adviser.
To prepare for the contest, participants had to write a speech, present it to a panel, and then answer questions. Each contestant had to write a speech that was six to eight minutes long.
"I believe we need more game wardens to protect natural habitats because there are groups of poachers and unlawful sportsman and we need to stop them," said Reiter.
The next speech competition will take place at Spring Cove next Tuesday. If the B-A participants win, they will move on to states.
"It feels great because it was my first year, and to come home with first feels good," said Reiter.
Boutliller was happy with her placement, but she plans on making some revisions for the Blair-Bedford-Fulton area competition.
"I am definitely going to make some revisions to my speech and study harder! Hopefully I can move on through the next level," said Boutiller.