SENSATIONAL SOPHOMORE: Riley Amerine
This month's Sensational Sophomore is Bellwood-Antis native Riley Ameren.
Riley is the type of person who is always there for you even if you guys are not talking. She is a generally happy person who has a huge heart, and she's most definitely a jokester! Yet, she looks at herself as a loner in school.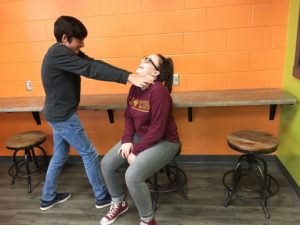 "My outlook basically is just: if life gives you lemons keep them because, hey, free lemons!" said Riley.
Though Riley said her sophomore year has been a good one, she can't wait to get out of high school.
She was born and raised in Bellwood but she doesn't really like very much about it here. Her plans after high school are to attend Lock Haven University, which is the alma mater of of an influential teacher in Riley's education here at B-A.
"He is a great teacher, and I learn a lot from him, and he's super cool and chill," Riley said about her favorite teacher Mr. Naylor.
Leave a Comment