Old faces in new places
Opening of school year is marked by the grade-level movement of several teachers
Everyone likes a change of scenery—even the teachers at Bellwood-Antis.
This year, many teachers have moved to different classrooms and even different buildings.
Mr. Tim Trexler has moved from teaching sixth grade math, science, English, and spelling in the middle school to supervising the media center. Mrs. Deanna Trexler has taken up her husband's old position after teaching first grade for four years and kindergarten for one year. In addition, Mrs. Ruda Burns has moved to the middle school, Mr. Matthew Germino has moved to fourth grade, and Mr. David Plummer has moved to first grade.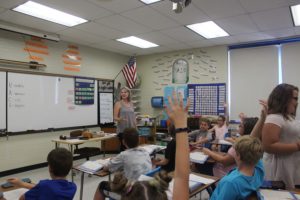 Mrs. Kyley McGarvey has left the formal classroom to take on a role as a technology teacher, making lessons for students to apply in the regular classroom and the elementary makerspace.
Mr. Trexler more than served his time in the middle school, having been there for 30 years. When asked what prompted him to change positions, he said, "Well, being that I taught for 30 years I just made a change to try something new and try to refresh it. I'm always in for a challenge. I like to be creative.
"I have the best of both worlds," said Mr. Trexler, citing how his new position allows him to be creative but still work with students.
While working in the media center, he hopes to see it become a social hub where students can come to collaborate on projects. One thing he misses about teaching in middle school is getting to know students on a one-on-one basis.
Mrs. Trexler is also enjoying her new position. She likes to see how her students have developed over the years after having them at Myers.
"It's a different dynamic but I'm enjoying it," she said.
Myers has also seen a lot of movement. Mr. Plummer, after teaching kindergarten for seven years, has recently moved to first grade. He, too, decided it was time for a change. When asked if he liked teaching first grade, he said yes because his first graders already know how to use technology.
"
I feel teachers like to challenge themselves with different grade levels throughout their careers.
— Mr. Germino
"And now, when I want to do an iPad lesson, with Nearpod or something like that, they can pretty much follow along," he said. Nearpod is an IPad app that allows teachers to teach virtual lessons.
Mr. Germino taught kindergarten for four years, but now teaches fourth grade. He moved for "a new change of pace, a new challenge."
Similar to the other teachers that have moved, Mr. Germino is seeking a challenge. He said, "I feel teachers like to challenge themselves with different grade levels throughout their careers, so this opportunity opened up for me and I decided to take on that challenge."
All of the shifting creates challenges for administrators. According to high school principal Mr. Richard Schreier, one major obstacle in moving the teachers was updating their new information in Infinite Campus, the school's gradebook and scheduling software. Infinite Campus is integral to keeping teachers' schedules and rosters accurate. This information also bleeds into Google Classroom and Apple Classroom, which are both important teaching tools.
"That really put a wrench in the works for how soon we were going to be able to … have students attributed to teachers," he said.
Mr. Schreier said he was surprised that the teachers wanted to make such big changes so close to the start of the school year, considering the amount of work that goes into moving rooms and learning how to teach a different grade. But in all cases the moves seem to be very positive ones.
The determination and vision that brought these teachers to their new positions will surely lead them to further success.