Tylar Clemente is the genius behind mini-THON t-shirts
A single wedding invitation turned into one of the most inspirational ideas for mini-THON this year.
Senior Tylar Clemente is the mastermind behind the amazing mini-THON shirt designs, and the story behind it is one for the books.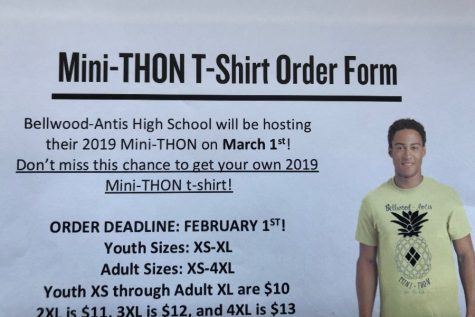 "I saw a wedding invitation with a pineapple in the corner and immediately thought the Four Diamonds logo would fit perfectly in the center," said Tylar. " Before I got the pineapple idea I was struggling to make a design. I had a few lame sketches, but once I got the idea I made it in third period study hall."
This year the mini-THON t-shirts are being sold to the public for $10.00. All the proceeds go toward the Four Diamonds to help families dealing with childhood cancer.
"I enjoyed creating the shirt design, and it may not be my favorite form of art but it was for a good cause. I will not be able to attend, I'm glad I got to contribute in a way," said Tylar. "The best part will be being able to see the shirts all throughout not just the school but the community too."
B-A's mini-THON committee is hoping to go beyond the incredible success it had last year in its first attempt at a THON event. Then, the group raised $13,000.
The group's goal this year is $15,000.
Students and community members can order a shirt by filling out a form, available from any THON committee member. Order forms are due Friday, February 1.