Should Football Be Banned?
Debate at Pitt discusses the harm in kids playing the sport
Everyone likes football; it's as American as it gets. From the wee age of seven, we have children running sprints and learning how to throw the pigskin.
But, is that a bad thing? Do we start kids out too young for contact sports? Are we leading children down a path filled with injuries like concussions and broken bones?
While girls' soccer is the most common sport where girls get concussions and  cheerleading is the most dangerous sport of them all, statistically speaking none of them have a death rate like football does. Amateur football players have an average death rate of twelve players a year.
So should organized, full-contact football be prohibited for minors?
"
The trainers, coaches, and doctors are better equipped to treat injuries and concussions"
— Junior high football coach Charlie Burch
That's the subject that is up for debate on Friday, November 7, 2014, at 12:30-2:00 p.m. at the University of Pittsburgh Oakland campus. Students in CHS Argument and Rhetoric will be viewing the debate via a live-streamed feed.  The debate is part of the Marcella L. Finegold Memorial Public Debate series and it will feature national experts on the subject of head trauma and sports concussions.
Part 1 of the PBA documentary League of Denial sets the framework for the debate over the impact of head trauma in football. (FRONTLINE)
The debate has its roots in part in the PBS series Frontline, which aired a documentary called League of Denial, exposing the dangers of concussions in the NFL.  It is centered around the downfall of former Steelers center Mike Webster and features several Pittsburgh doctors and athletes.
"Absolutely not," said Mr. Burch, B-A's jr. high football coach. "We have safe tackling equipment and better, safer helmets. The trainers, coaches, and doctors are better equipped to treat injuries and concussions."
But couldn't we just avoid injury all together by not having football for people under 18?
"Okay—maybe we start too young. Maybe we shouldn't have seven-year olds tackling each other," Burch continued. "Concussions are an issue, but we, as coaches, teach the proper technique to keep the kids safe. There is a problem, but it's slowly going away."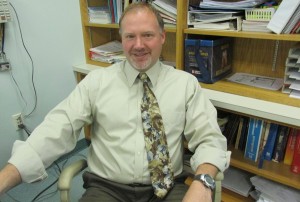 Coach Burch was enthusiastic about his answers, quick to add that soccer, basketball, and basically every other sport has concussions just like football does. Will we eventually just eliminate every sport where there's a risk of injury, Burch asked rhetorically?
And, that's just a coach's perspective. What do the players think?
Kyler Lardieri, a senior letterman on the football team, told us, "You know what you're getting into. You're playing at your own risk."
Dallas Huff, another Blue Devil starter who suffered a concussion two weeks ago against Mount Union, said, "At a young age you learn all the different aspects of the game. You learn the right way to do things like tackling and in a way, you get life lessons out of it. Like, I currently have a concussion, and I'm still saying it shouldn't be banned. You don't think about getting hurt until that time comes."
Dallas went on to say that if anything, "they should work on better equipment—not straight up banning the sport."
The opinion of B-A's trainer isn't much different. Jesse Glass, who works with every sports team at B-A, said, "I don't like that at all. It's not a good idea. I mean, I've played tackle football from 3rd grade all throughout high school. It has so many lessons to be learned like discipline and how to deal with adversity. Yeah, we should be worried about injuries in the younger kids, but it's not like we don't have the proper equipment to keep them as safe as we can. There's tons of research on the effects it has on adolescents and the healing processes."
"
I currently have a concussion, and I'm still saying it shouldn't be banned. "
— B-A senior Dallas Huff
Even though Jesse is supportive of keeping tackle football available for minors, he's aware that it's still dangerous.
"I'm not saying it's completely safe. We should be more cautious when it comes to children because irreversible damage can occur," Glass said.
Players, coaches, and trainers at Bellwood-Antis agree: no, it should not be banned for minors. Banishment of the sport is a drastic measure.