Veterans Day Assembly
On Monday, November 9, Bellwood-Antis High School had the annual Veteran's Day assembly.  This assembly has become a great tradition at the high school and is enjoyed by everyone.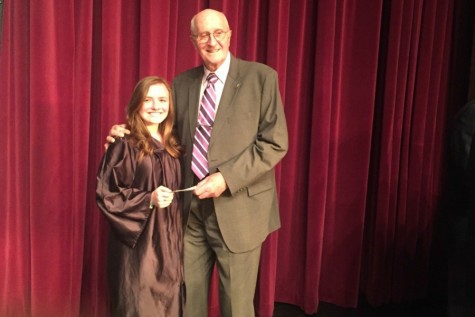 After the program was opened by Revel Southwell, the advancement of the colors was done by Alex Dunlap, Paulino Cuevas, and Daniel Kustaborder.  When the colors were presented, the whole high school joined together and recited the Pledge of Allegiance.
After the Pledge of Allegiance, students and teachers remained standing for the National Anthem a and Alma Mater, performed by the high school chorus. They then sang "Song for the Unsung Hero".
When the singing was over, it was time for the guest speaker, Commander Thomas Brown.  Commander Thomas was part of the Korean Conflict and is now a member of the Pennsylvania VFW.  He explained what Veteran's Day is for the living veterans and that Memorial Day is the day that we should honor veterans who have passed away.  He told the students of a veterans DNA database in Hawaii where all deceased soldiers that could not be identified are now at to hopefully identify in the future.
Multiple times throughout the speech he told students that they are the new America.  Commander Thomas said that he is so happy knowing that the country he fought for will continue to be the best country in the world because of the young people that will soon enter the work force. The veteran ended his speech by giving seniors Revel Southwell and Zane Wenner a challenge coin and challenging all of the students to look up the meaning of a challenge coin.
The speech was followed by two videos.  The first video was from students Hannah Hornberger, Kermit Foor, Alex Hale, and Aubree Reiter.  The video can be seen here.  The second video, made by Zane Wenner, was all about the sacrifices that soldiers make.  He has also recently staretd the Fear Not Foundation, a foundation that helps veterans with post-traumatic stress disorder.
After the videos were over, it was time to award the winners of the Bellwood-Antis Lions Club's essay and poetry writing contest.  The theme of this year's poem or essay was PTSD.  All of the award winners decided to write poems this year.  The winner of this years contest was Cassidee Reiter, with Shaylee Bennett and Pam Campbell receiving honorable mention recognition. Cassidee then read her winning poem and was presented with her award by Mr. Donald Mills of the Lions Club.
The band then took the stage and played "God Bless America" and "Captain America".
Taps was played by Revel Southwell as the colors were retired.
Overall, the assembly was a great way for the students of Bellwood-Antis to say thank you to all of the veterans who have served.