Where it's at
Studies show Americans are bad at geography, but that's not so at B-A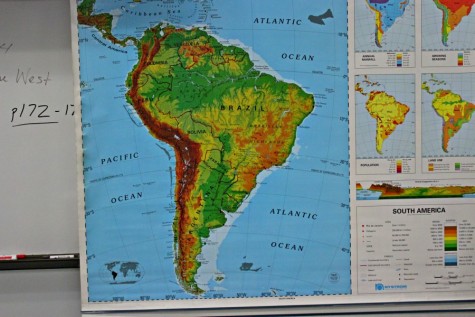 Where is Iraq located on the map? What is the capital of Peru? What hemisphere is Central America in?  If you struggled with any of questions, you're not alone. In fact, today, many American students can barely even locate which way is Northeast on the map.
When it comes to American students and geography, we aren't particularly the best at it.
However, many history teachers at B-A don't see a problem.
"
People don't see geography as a big part of their lives.
— Mr. McNaul
"There's actually a push to raise the standards, expectations of geographical knowledge," middle school American Cultures teacher, Mr. Tim Andrekovich said.
"There are a number of studies that point out a lot of students and adults lack basic geographical skills, but I've always had the same expectations of what students should know about the country and world in which we live."
High school civics teacher Mr. Matthew McNaul said, "People don't see geography as a big part of their lives. If you want to go somewhere, you can just MapQuest it, and you don't have to read maps to go anywhere, anymore."
The nation's report card shows that in 2014 only around 3% scored advanced and 25% scored below basic. There has been no significant change in the average score of eight-graders since 1994. Only 20% of 12 graders in the U.S. scored at or above proficient in 2010.
But what is the reason for our student to be failing geography?
Some believe that it has to do with race or ethnicity.
Also most schools do not even teach geography after 7th grade, they teach social studies and cover only a small amount of geography in that class, so students only get a little bit of geography in their education time.
Others blame technology for the declining scores in geography.  Our devices can locate things on the map for us.
Freshman Mya Decker told us:
"Students are probably bad at geography because they have their cellphones to help them out, they're also probably too distracted to even care about where things are located on a map."