Girls advance past Ligonier behind Swogger's 36
The Bellwood-Antis girls' basketball team will advance to the quarterfinals of the district playoffs in a 71-38 drubbing of Ligonier Valley.
In the victory, Karson Swogger broke yet another record. She set the single season points record early in the fourth, splashing her sixth three-pointer of the night. She now has 703 points on the season surpassing previous record holder, Melissa Sitman, who scored 700 back in the 2002 campaign.
The game plan for Bellwood was based off of containing Ligonier's two forwards, each averaging over 17 points per game.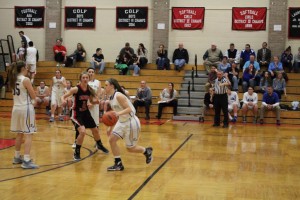 The first quarter started off real slow for both teams, with not much scoring going on. Having enough of it, Swogger took over with 12 of her teams 24 points in the quarter. Riley D'Angelo hit a pair of treys to put Bellwood up 24-9 at the end of the frame.
Ligonier fought back in the second quarter to bring the game to within eight, 28-20. But that's all they could do. Alanna Leidig hit a big three and a pair of free throws to give back Bellwood their commanding double-digit lead. The score was 40-27 at half and Bellwood never looked back.
The second half began and like the first, Swogger controlled the pace of the entire game. Maintaining balanced scoring in the half, Bellwood built an insurmountable lead. Ligonier was not able to get close again.
Bellwood allowed one of Ligonier's forwards to score her season average but the other was held to 7, thanks in part to stifling defense by Caroline Showalter and Sophie Damiano.
Swogger led Bellwood with 36 points. She also grabbed 3 board and dished out 3 assists.
D'Angelo added 8 points and dished out 4 assists. Surprisingly enough, she also recorded 2 blocked shots.
Damiano had a good game down low, scoring 7 points and grabbing 7 rebounds.
Bellwood will resume their playoff run on Friday, February 19 at Hollidaysburg High School. The contest will take place at 6 P.M. and precede the boys' playoff game.