Caracciolo and Guyer sign letters of intent
On Friday, Bellwood-Antis senior football players Cooper Guyer and Dom Caracciolo signed letters of intent in the media center.
The Blue Devil teammates will now be opponents in the Pennsylvania State Athletic Conference (PSAC), widely regarded as the top Division II athletic league in the nation.
Guyer signed with Indiana University of Pennsylvania (IUP) where he will play as a fullback, while Caracciolo signed with Seton Hill, which is located in Greensburg.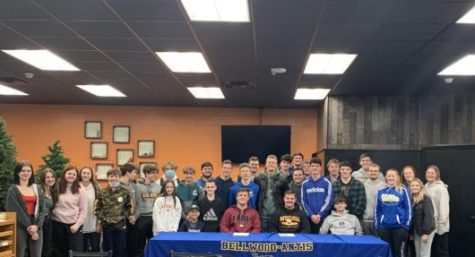 Guyer had a very successful high school football career. The four-year letter winner racked up a total of 146 tackles, 5 sacks, and 2 interceptions on defense in his career. Guyer also played fullback as a senior, putting up 360 rushing yards and 10 touchdowns.
Guyer also played offensive guard, where he made two ICC all-conference teams and an honorable mention.
Caracciolo, also a four-year letter winner, had his senior season cut short this year. Caracciolo had to quarantine when he contracted COVID and then sustained a season-ending leg injury later in the season.
In his career, Caracciolo totaled 65 total tackles, 7.5 sacks, and scored a touchdown.
Head coach Nick Lovrich praised the two seniors saying, "Cooper and Dom have been great teammates and leaders on our team. They will make a positive impact on the football field and in the classroom in their schools."
Lovrich also noted how significant the signings are because there has been an added difficulty for recent seniors in high school looking to play at the next level because of current players getting an extra year due to COVID. Also, because of new rules regulating the transfer portal, college programs haven't been accepting as many high school recruits.
"People don't realize how hard it is for high school seniors to get to the next level now with the extra year college athletes get, and with what the transfer portal is now," he said.
Above all, Coach Lovrich praised the athletes' character on and off the field.
"It is great to see Dom and Cooper both move on to the next level in football, especially at the Division II level," Coach Lovrich said. "Both of them have worked very hard to achieve this accomplishment. One thing that may get overlooked in this is the fact that not only are they good football players, but they are great students in the classroom. Their academic work here at Bellwood-Antis helped them get this opportunity as much as their playing ability did."
IUP finished 7-3 in 2021, while Seton Hill went 5-6.
Good luck to both Dom, and Coop at the next level!