Track team has high expectations
Sprints and mid-distance look to be strong for the Devils
The Bellwood-Antis boys track team  has been thoroughly solid throughout the years, winning the ICC title 13 of the last 14 seasons.
The 2016 season should be no exception. The team has good senior leadership and is a favorite to win the ICC championship.
Whether it can win its first District championship since 2013 is another story.
"We have a lot of guys coming back. I feel good about the development of all of our guys," said Coach Nick Lovrich. "We have solid young guys that can fill in the needed spots to be a great team along with the older guys who have been chomping at the bit to be the number one and two guys in events."
"
We have some experienced guys coming back. We need a lot of leadership out of them."
— Jake Burch
The boys track team has brought back many keys to their success from last year, and Coach Lovrich sees this year as a step up from 2015. Along with having two returning runners from the District 6-AA winning 1600m relay team, he team also has Nathan Davis, an ICC All-Star in both the 100m and 200m dashes. Senior Derek Swope made Districts in the 110m and 300m hurdles, and Matt Glunt qualified for in the high jump.
Davis and Burch ran on the 1600 relay team at Districts, but the squad also included senior Noah D'Angelo before he sustained stress fractures. D'Angelo is back, making the 1600 relay team on of several strong relay squads for the Devils.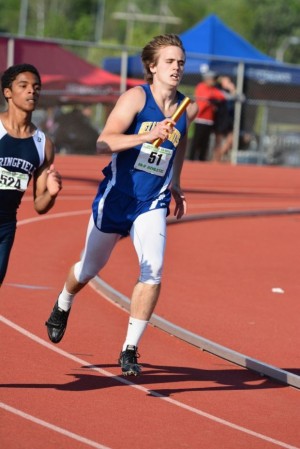 "We have some experienced guys coming back. We need a lot of leadership out of them," said Burch. "If we work hard, we will win our meets."
It is obvious that the sprints and mid-distance events for BA will be the strong point this year.  The field events along with the jumps will be competitive, though field coach Mr. Charlie Burch sees it as a growing season.
"We have high expectations for Cody Campbell in the javelin," said Mr. Burch. "The kids are working very hard at discus. The shot put is probably our biggest concern. We have a lot of youth. It might be a learning year, but it will be good for the future."
With the team missing crucial distance runners this year, it seems to be a huge question mark as to whether those events will be able to live up to the others.
"I feel like we have the depth to perform well," said D'Angelo. "We just have to make up for events we're not too strong in and hope for the best."
Lovrich feels as though there are no shoe-ins for Districts this year, but did name a few of the front runners that made it last year such as Swope, Burch, Davis, and Glunt.
Nothing is guaranteed, but Coach Lovrich and the gang have high hopes and expectations for this year.