ARTIST OF THE WEEK: Emily Martin
Emily Martin is the latest Artist of the Week, in part because of her outstanding creativity.
However, Emily has other attributes to go along with her imagination, like her ingenuity and attention to detail.
Emily started to grow a liking for art when she had her first art classes in elementary and middle school. As her intertest grew she  always wanted to take a high school art class, but she hadn't had a chance until this year, which is her senior year. When the time in her schedule opened up, Emily jumped at the opportunity.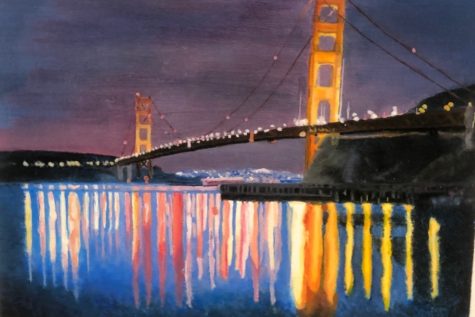 Emily's favorite type of  art is impressionism. In fact, her last project was an impressionist landscape oil painting.  She plans to continue art through college and take a few art classes there.
Emily's current art project is in the style of pen and ink surrealism. She decided upon drawing a duck in a banana peel because she "wanted something funny and creative and her friends really like ducks."
Bellwood-Antis art teacher Mrs. Leah McNaul can't say enough about Emily.
"Emily Martin is incredibly talented and she has continued to impress me with her talents," Mrs. McNaul said. "During (school shutdown in December) she created an impressionism landscape oil painting with limited hands-on instruction. She painted live using her camera to show every brush stroke. She painted with minimal help from her teacher and proved she had incredible ability. She has excelled at every medium that has been introduced to her."
Emily is a brilliant artist and will continue to light up the halls with her amazing work.