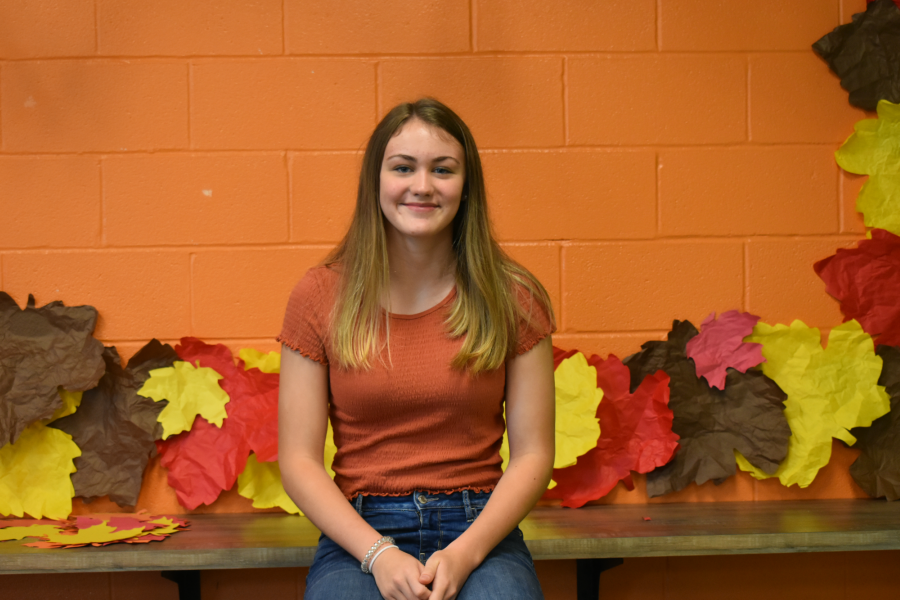 How many years have you been in Blueprint?
This is my first year in Blueprint.
What would you like to do this year?
I would like to write stories, and be a good writer.
What grade are you in?
I am in ninth grade.
Why did you take Blueprint?
I took Blueprint because I like writing.
Hailee McConnell, Staff Writer
Mar 13, 2020

Elementary Excellence: Brady Crist

(Story/Media)

Mar 11, 2020

SENSATIONAL SOPHOMORE: Cooper Guyer

(Story)

Mar 06, 2020

FAB FRESHMAN: Holden Shook

(Story/Media)

Mar 04, 2020

Like elsewhere, B-A nurse, counselors spread thin

(Story)

Feb 28, 2020

Mock Trial falls in district playoffs

(Story)

Feb 26, 2020

Just Junior: Hunter Gregg

(Story)

Feb 25, 2020

STEM night coming in April

(Story)

Feb 18, 2020

ATHLETE OF THE WEEK: Chelsea McClausky

(Story)

Feb 13, 2020

FAB FRESHMEN: Ava Miller

(Story)

Feb 13, 2020

BA teacher couples reflect on their time together

(Story)

Feb 05, 2020

BA HISTORY 101: school lunches

(Story)

Feb 05, 2020

Autism awareness t-shirt sale and poster contest underway

(Media)

Feb 03, 2020

Just Junior: Dakota Woomer

(Story)

Jan 30, 2020

Super Senior: Olivia Musselman

(Story)

Jan 16, 2020

SUPER SENIOR: Marcus Troisi

(Story)

Jan 15, 2020

BA History: New Library

(Story/Media)

Jan 02, 2020

Catching up on some ZZZZZs

(Media)

Dec 13, 2019

Saint Francis STEAM day

(Story)

Dec 11, 2019

Two B-A speakers excel at first meet

(Story)

Dec 06, 2019

BA HISTORY 101: Home Economics Room

(Story)

Nov 20, 2019

BA art goes on Instagram

(Story/Media)

Nov 15, 2019

Blue Angels project begins

(Story)

Nov 13, 2019

BASD increases safety with new locking system

(Media)

Nov 08, 2019

BASD approved for virtual days

(Story)

Nov 05, 2019

SENSATIONAL SOPHMORE: Jaidyn McCracken

(Story)

Oct 18, 2019

Powder Puff game scheduled for next week

(Story)

Oct 16, 2019

BA HISTORY 101: renovating Memorial Stadium

(Story)

Oct 11, 2019

Teachers deal with emotions of returning from maternity leave

(Story)

Sep 27, 2019

See You at the Pole draws record crowd

(Story)

Sep 25, 2019

BA HISTORY 101: cafeteria strike

(Story)

Sep 19, 2019

Homecoming court enjoys skit night

(Story)

Sep 17, 2019

BA HISTORY 101: Mascot Controversy

(Story)

Sep 09, 2019

Students deal with dress code changes

(Story)