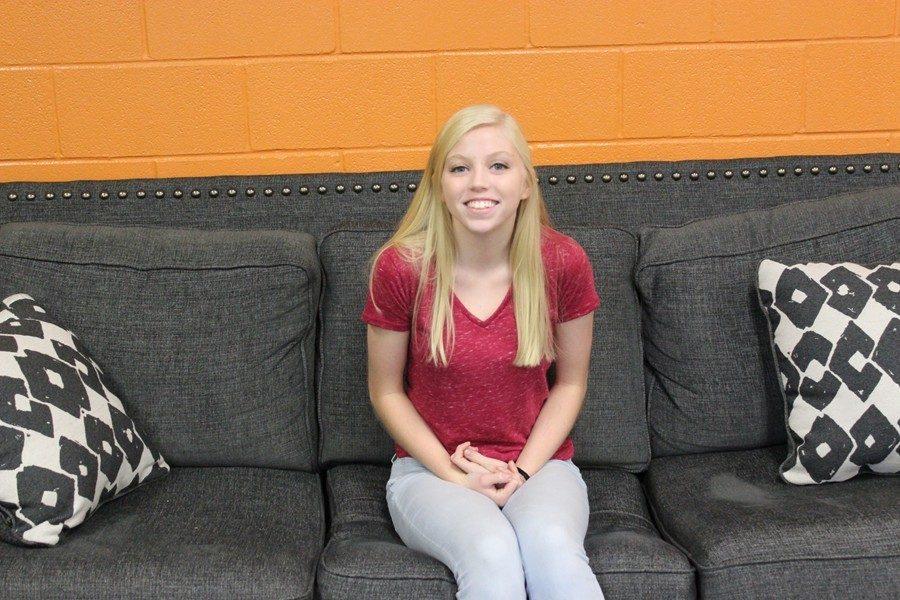 My name is Kaelynn Behrens, and this is my first year in BluePrint. This is my sophomore year.
I joined BluePrint because I have discovered I enjoy writing very much, and this year I hope to improve on my article writing abilities. I normally write about school news or create videos, like Dudes on Food or College Corner.
Outside of BluePrint I am involved in volleyball and track & field. I also enjoy hunting and spending time with my family.
Kaelynn Behrens, Video/College Corner Editor
Jan 08, 2020

mini-THON Donor Drive open now

(Media)

Dec 19, 2019

Christmas Activity Fair returns Friday

(Media)

May 31, 2019

Top 10 stories for the 2018-19 school year

(Story/Media)

May 31, 2019

FORGOTTEN BELLWOOD: Thank You and Goodbye, The Finale part b.

(Story)

May 30, 2019

2 Cool 4 School: The Finale

(Media)

May 30, 2019

FORGOTTEN BELLWOOD: Memorial Stadium, The Finale part a.

(Story/Media)

May 22, 2019

College Corner with Caden Nagle

(Story/Media)

May 21, 2019

Spotlight on Staff: Kaelynn Behrens

(Story)

May 17, 2019

B-A students heading to Xscape Xstravaganza

(Media)

May 16, 2019

D'Angelo earns Valedictorian honors

(Media)

May 15, 2019

Forgotten Bellwood: The Gyms

(Story/Media)

May 15, 2019

College Corner with Gage Dean

(Story/Media)

May 14, 2019

98 grad tabbed as Commencement speaker

(Story)

May 14, 2019

Should School Start Later? POLL

(Media)

May 13, 2019

ATHLETES OF THE WEEK: Myers wrestlers

(Media)

May 10, 2019

B-A celebrates its teachers

(Story)

May 10, 2019

Poetry Slam postponed

(Media)

May 09, 2019

Myers students read their poetry

(Story/Media)

May 02, 2019

Spotlight On Staff: Mya Decker

(Media)

May 01, 2019

Artist of the Week: Raela Zuiker

(Media)

May 01, 2019

College Corner with Alivia Jacobs

(Story/Media)

Apr 29, 2019

POLL: Spoons vs. Forks

(Media)

Apr 26, 2019

BA displays another mock car accident

(Story/Media)

Apr 25, 2019

College signing: Hope Shook

(Media)

Apr 16, 2019

New scholarship available now

(Media)

Apr 15, 2019
Apr 11, 2019

It's Poetry Slam time once again

(Media)

Apr 10, 2019

College Corner with Alanna Vaglica

(Story/Media)

Apr 10, 2019

College Corner with Alanna Vaglica

(Story)

Apr 09, 2019

B-A superintendent address power outage

(Story/Media)

Apr 08, 2019

Bellwood-Antis experiences major power outage

(Story)

Apr 08, 2019

Boys and girls track bring home four more wins

(Story)

Apr 05, 2019

Track teams topple Southern Huntingdon

(Media)

Apr 03, 2019

BA History 101: Bellwood Confidentials

(Media)

Apr 03, 2019

Vaglica tabbed as B-A representative at speech event

(Media)

Apr 02, 2019
Apr 01, 2019

Artist of the Week: Jake Fitzgerald

(Media)

Mar 28, 2019

Arts Night coming Friday

(Media)

Mar 28, 2019

Mastering High School: Bullies

(Media)

Mar 22, 2019

(Bellwood-Antis takes home state title) x2

(Story)

Mar 22, 2019

FAB FRESHMAN: Reese and Riley Fisher

(Media)

Mar 20, 2019

PIAA PREVIEW: Lady Devils prepare for West Middlesex

(Media)

Mar 18, 2019

PHOTO STORY: Lady Blue Devil Basketball vs. York Catholic

(Story/Media)

Mar 18, 2019

Lady Devils play in Final Four tonight

(Media)

Mar 18, 2019

Spread the Word event scheduled for bocce team

(Media)

Mar 15, 2019

2 Cool 4 School: Jayce Miller

(Media)

Mar 15, 2019

Weekly Newscast 3/15/19

(Story)

Mar 15, 2019

College Corner with Alex Frederick

(Story)

Mar 13, 2019

Lady Devils survive and advance

(Media)

Mar 12, 2019

PHOTO STORY: Lady Blue Devils vs. Windber

(Story)

Mar 08, 2019

Weekly Newscast 3/8/19

(Story/Media)

Mar 05, 2019

Basketball teams prep for PIAA playoffs

(Media)

Mar 04, 2019

FAB FRESHMAN:Cole Cherry

(Media)

Mar 04, 2019

Stellar Staffulty: Mr. Trexler

(Media)

Mar 04, 2019

BA mini-THON is another success

(Story)

Mar 01, 2019

B-A boys fall in consolation game

(Media)

Mar 01, 2019

PHOTOSTORY: Blue Devils vs. Forest Hills

(Story)

Mar 01, 2019

PHOTOSTORY: D6 Girls Basketball Championship

(Story/Media)

Feb 28, 2019

D'Angelo joins an elite group of scorers

(Media)

Feb 27, 2019

Mastering High School: Asking Teachers For Help

(Media)

Feb 27, 2019

Bocce team advances to states

(Media)

Feb 27, 2019

Two B-A speakers are headed to states

(Media)

Feb 26, 2019

B-A art students enter Vans shoe design contest

(Media)

Feb 26, 2019

PHOTOSTORY: Lady Blue Devils vs. Penns Manor

(Story/Media)

Feb 25, 2019

Forgotten Bellwood: The Million-Dollar Hallway

(Story/Media)

Feb 22, 2019

PHOTO STORY: BA Girls vs. Bishop McCort

(Story/Media)

Feb 21, 2019

B-A bocce team takes the win from Hollidaysburg

(Story)

Feb 14, 2019

Boys and girls basketball teams headed for ICC title game

(Media)

Feb 14, 2019

PHOTOSTORY: Boys Basketball Senior Night

(Story/Media)

Feb 14, 2019

Tea W/ C: Valentine's Day

(Media)

Feb 11, 2019

Weekly Newscast 2/8/19

(Story/Media)

Feb 08, 2019

BA football players sign with SFU

(Story/Media)

Feb 08, 2019

Mastering High School: The Most Powerful Thing You Can Do

(Media)

Feb 07, 2019

Look at the lockers!

(Media)

Feb 06, 2019

BEHIND THE SCENES: the making of Forgotten Bellwood

(Story)

Feb 06, 2019

Bellwood-Antis' First Bocce Game

(Story/Media)

Feb 06, 2019

BA bocce team plays inaugural game

(Story)

Feb 05, 2019

College Corner with Owen Shaulis

(Story)

Feb 05, 2019

College Corner with Owen Shaulis

(Story/Media)

Feb 05, 2019

PHOTOSTORY: Senior Night for the Swim Team

(Story/Media)

Feb 01, 2019

Weekly Newscast 2/1

(Story/Media)

Feb 01, 2019

Artist of the week: Emily Osborne

(Media)

Feb 01, 2019

Forgotten Bellwood: The Glass Hallway

(Story/Media)

Jan 30, 2019

TEMPS FORCE SCHOOL DISMISSAL

(Story)

Jan 29, 2019

PHOTOSTORY: Lady Devils vs. Glendale

(Story)

Jan 28, 2019

Three is a magic number

(Media)

Jan 25, 2019

Weekly Newscast 1/25

(Story)

Jan 25, 2019

Athlete of the Week: Olivia Thomas

(Story)

Jan 16, 2019

Winter Lights POSTPONED

(Story)

Jan 15, 2019

Devils continue to hang with the best of them

(Media)

Jan 14, 2019

Winter Lights 2019

(Story)

Jan 12, 2019

Community can order mini-THON t-shirts

(Media)

Jan 11, 2019

2 Cool 4 School: Karlie Feathers

(Media)

Jan 10, 2019

FCA sets cereal drive goal

(Media)

Jan 10, 2019

College Corner with Mya Decker

(Story/Media)

Jan 08, 2019

FORGOTTEN BELLWOOD: The football locker room

(Story/Media)

Jan 02, 2019

Activity Fair 2018

(Story)

Dec 30, 2018

Ripples of change

(Story)

Dec 21, 2018

FORGOTTEN BELLWOOD: The hidden classroom

(Story/Media)

Dec 18, 2018

Band holding instrument drive

(Media)

Dec 18, 2018

B-A speakers shine at first meet

(Media)

Dec 17, 2018

College Corner: Anna Sloey

(Story/Media)

Dec 12, 2018

FORGOTTEN BELLWOOD: The Basement

(Story/Media)

Dec 11, 2018

Photostory: Boys Basketball vs Tyrone

(Story)

Dec 06, 2018

National Microwave Oven Day

(Media)

Dec 04, 2018

Athlete of the Week with Parker Martin

(Media)

Dec 03, 2018

FAB FRESHMAN: Ethan Brown

(Media)

Nov 30, 2018
Nov 29, 2018

Four Blue Devils named to ICC first team

(Media)

Nov 29, 2018

Artist of the week: Gabriella Finn

(Media)

Nov 27, 2018

Blue Angels continue to spread Christmas cheer

(Story/Media)

Nov 13, 2018

FEATURED ALUMNI: Miranda Lowery returns to speak at B-A

(Story)

Nov 07, 2018

Hyped over energy drinks

(Media)

Oct 31, 2018

Scholastic Scrimmage team advances to semifinals

(Story)

Oct 24, 2018

PHOTOSTORY: Halloween Parade

(Story/Media)

Oct 23, 2018

College Corner with Gwen Dougherty

(Story)

Oct 23, 2018

College Corner with Gwen Dougherty

(Story/Media)

Oct 15, 2018

Devils roll to win over Mount Union

(Story)

Oct 12, 2018
Oct 09, 2018

Scholastic Scrimmage Team goes 6-1

(Media)

Oct 08, 2018

College Corner with Julie Norris

(Story)

Oct 08, 2018

College Corner with Julie Norris

(Story/Media)

Oct 03, 2018

Super Senior: Anna Sloey

(Story/Media)

Sep 24, 2018

FCA hosting See You at the Pole Wednesday

(Media)

Sep 20, 2018

College Corner: Hannah Wicks

(Story/Media)

Sep 20, 2018

COLLEGE CORNER: Hannah Wicks

(Story)

Sep 19, 2018

Fresh new look for BA

(Story/Media)

Sep 19, 2018
Sep 14, 2018
Sep 06, 2018

Media Center makes upgrades

(Media)

Aug 31, 2018

Gold Game highlights first home football game

(Media)

Aug 25, 2018

Blue Devils fall in the Brawl

(Story)

Jun 08, 2018

The year-end review: Top 10 news stories

(Media)

Jun 05, 2018

Burch takes over as Athletic Director

(Media)

May 31, 2018

2COOL4SCHOOL: Braden Heisler

(Media)

May 31, 2018

SENIOR WALK: Class of 2018

(Story)

May 30, 2018

2COOL4SCHOOL: Braden Heisler

(Story)

May 25, 2018

High school gym renovations coming soon

(Media)

May 23, 2018

B-A junior earns first award at state PJAS

(Media)

May 17, 2018

2Cool4School: Danielle Coakley

(Story)

May 17, 2018

COLLEGE CORNER: BluePrint staff

(Story)

May 17, 2018

COLLEGE CORNER: The BluePrint staff

(Story/Media)

May 10, 2018

COLLEGE CORNER: Kamryn Mercer

(Story/Media)

May 10, 2018

SENSATIONAL SOPHOMORE: Anson Jones

(Media)

May 04, 2018

JUST JUNIOR: Alex Frederick

(Story)

May 03, 2018

Steps to a successful end of the school year

(Media)

May 01, 2018

WE'RE JUST SAYIN': television shows

(Story)

May 01, 2018

SENSATIONAL SOPHOMORE: Alex Roberts

(Story/Media)

Apr 27, 2018

COACH HAYES RETIRES

(Media)

Apr 17, 2018

2COOL4SCHOOL: Shayla Branstetter

(Media)

Apr 13, 2018

2COOL4SCHOOL: Haley Campbell

(Media)

Apr 13, 2018

ARTIST OF THE WEEK: Tristan Claypoole

(Media)

Apr 06, 2018

JUST JUNIOR: Caden Nagle

(Story/Media)

Apr 06, 2018
Apr 06, 2018

COLLEGE CORNER: Alexis Parson

(Media)

Apr 02, 2018

B-A says goodbye to three student teachers

(Media)

Mar 29, 2018

SENSATIONAL SOPHOMORE: Emily Osborne

(Story)

Mar 29, 2018

COLLEGE CORNER: Kyra Woomer

(Media)

Mar 29, 2018

Bellwood-Antis Mini-THON

(Story)

Mar 23, 2018

ARTIST OF THE WEEK: Kaleah Smith

(Media)

Mar 22, 2018

Campbell adds Gatorade Player of the Year to list of accolades

(Story)

Mar 22, 2018

B-A has made significant changes to improve student safety

(Media)

Mar 16, 2018

The ninth annual Arts Night is coming Friday

(Media)

Mar 16, 2018

Artist of the Week: Alex Foose

(Story/Media)

Mar 12, 2018

2COOL4SCHOOL: Kali Lonsinger

(Media)

Mar 09, 2018

ARTIST OF THE WEEK: Luke Woodring

(Media)

Mar 08, 2018

SPOTLIGHT ON STAFF: Julianna Norris

(Media)

Mar 07, 2018

FAB FRESHMAN: Landon Bungo

(Media)

Mar 02, 2018

Read Across America at Myers

(Story)

Feb 28, 2018

2COOL4SCHOOL: Dionna Pearce

(Media)

Feb 27, 2018

ALLI-OOP! BA basketball star Alli Campbell shines during sophomore season

(Story)

Feb 15, 2018

TOO COOL FOR SCHOOL: Alex Roberts

(Media)

Feb 09, 2018

ARTIST OF THE WEEK: Dominic Tornatore

(Story/Media)

Feb 09, 2018

PHOTOSTORY: CHS DEBATES

(Media)

Feb 06, 2018

COLLEGE CORNER: Lydia Eamigh

(Media)

Feb 06, 2018

FEATURE TEACHER: Mr. McNaul

(Media)

Feb 03, 2018

Mr. McNaul: Gun Instructor

(Story)

Feb 03, 2018
Jan 29, 2018
Jan 29, 2018

Just Junior: Cassidee Reiter

(Media)

Jan 25, 2018

Friends and competitors

(Story)

Jan 19, 2018
Jan 17, 2018

2 COOL 4 SCHOOL: Harrison Walker

(Media)

Jan 17, 2018

COLLEGE CORNER: Brooke Snyder says "We Are!"

(Media)

Jan 17, 2018
Jan 11, 2018
Jan 10, 2018

Speech Team keeps on rolling

(Story)

Jan 10, 2018

THE POWER OF THREE: Strange traditions

(Media)

Jan 08, 2018

Children face pressures too

(Story/Media)

Jan 02, 2018

What does BA want for Christmas?

(Story)

Dec 21, 2017

2 COOL 4 SCHOOL: Ava Beiswenger

(Media)

Dec 14, 2017

MS Leadership Team hosting holiday fundraiser

(Story/Media)

Dec 12, 2017

COLLEGE CORNER: Jack Showalter

(Media)

Dec 08, 2017

ATHLETE OF THE WEEK: Owen Grondin

(Media)

Dec 06, 2017

ARTIST OF THE WEEK: Trevor Sholly

(Media)

Dec 04, 2017

B-A comes down with buck fever

(Story/Media)

Nov 30, 2017

Just Junior: Cassidy Shawley

(Story/Media)

Nov 30, 2017

2 COOL 4 SCHOOL: Kayla Beichler

(Media)

Nov 29, 2017

FAB FRESHMAN: Noah Miner

(Media)

Nov 26, 2017

Hollen garners third ML MVP

(Story)

Nov 22, 2017

2 Cool 4 School: Quintin Nelson

(Media)

Nov 17, 2017
Nov 15, 2017

College Corner: Tanner Worthing

(Media)

Nov 14, 2017

2 COOL 4 SCHOOL: Zion Poe

(Media)

Nov 08, 2017

B-A grad teaches students about the meaning of service

(Media)

Nov 02, 2017

Band continues Myers recruiting trips

(Media)

Oct 30, 2017

Just Junior: Chris Friedenberger

(Story/Media)

Oct 30, 2017

Middle School Pep Rally: PHOTO STORY

(Story/Media)

Oct 24, 2017

SPORTS ROUNDUP: Bartlett shines at invitational; JV football goes undefeated

(Media)

Oct 19, 2017

B-A receives an intense eye opener

(Story)

Oct 16, 2017

BA competes in PMEA District Chorus auditions

(Story)

Oct 07, 2017

BluePrint Weekly Update

(Story)

Oct 03, 2017

BA crowns Homecoming Queen

(Story)

Sep 28, 2017

PHOTO STORY: BA reads to 2nd graders

(Story/Media)

Sep 26, 2017

PHOTO STORY: JV Blue Devils vs. Mo Valley

(Story/Media)

Sep 22, 2017

BluePrint Weekly Update

(Story)

Sep 22, 2017

3 Keys to a win over Mo Valley

(Story)

Sep 20, 2017

BASD refurbishes district office

(Story/Media)

Sep 18, 2017

PHOTO STORY: BA Pep Rally

(Story)

Sep 14, 2017

SPOTLIGHT ON STAFF

(Story/Media)

Sep 11, 2017

PHOTO STORY: AG Day

(Story/Media)

Sep 08, 2017

3 Keys to a win over C-K

(Story)

Sep 08, 2017

B-A installs new fire alarm system

(Story/Media)

Sep 08, 2017

College Corner: Mikayla Mason

(Story)

Sep 01, 2017

Three keys to a win over Glendale

(Media)

May 31, 2017

Top 10 news stories of the year

(Media)

May 19, 2017

College Corner: Myranda Mamat

(Story/Media)

May 12, 2017

Teacher Appreciation Week

(Story)

May 10, 2017

College Corner: Phoebe Potter

(Story/Media)

May 04, 2017

Mock accident presented by Excelsior Fire Department

(Media)

Apr 21, 2017
Apr 19, 2017

DUDES ON FOOD: candy edition

(Story)

Apr 11, 2017

College Corner: Tom Whiteford

(Story/Media)

Apr 01, 2017

FFA members advance in speech contest

(Story)

Mar 21, 2017

Young entrepreneurs prepare business ideas

(Story)

Mar 17, 2017

ATHLETE OF THE WEEK: Shawn Wolfe

(Media)

Mar 16, 2017

The perfect bracket

(Media)

Mar 15, 2017

PHOTO STORY: CHS debates

(Media)

Mar 15, 2017

BOOKLIGHT: The Undoing of Saint Silvanus

(Story/Media)

Mar 10, 2017

Photo Story: Arts Night Preparations

(Media)

Mar 07, 2017

Bellwood-Antis hosts junior high County Chorus

(Media)

Mar 03, 2017

College Corner: Kiara Wolfe

(Story)

Feb 27, 2017

College Corner: Jordan McCracken

(Story)

Feb 24, 2017

B-A Scholastic Scrimmage team falls to Hollidaysburg

(Story)

Feb 10, 2017

College Corner: Devon Zheng

(Story/Media)

Feb 07, 2017

B-A takes the Plunge

(Story)

Feb 03, 2017

College Corner: Jarryd Kissel

(Story/Media)

Feb 01, 2017

Students unhappy with decision

(Media)

Feb 01, 2017

Weather forces County Band cancellation

(Media)

Feb 01, 2017

District cancels County Band over weather concerns

(Media)

Jan 27, 2017

Dudes on Food: Breakfast Edition

(Story)

Jan 19, 2017

Brandon Bickle's Big Shot

(Story)

Jan 09, 2017

11 students qualify for County Band

(Media)

Jan 09, 2017

College Corner: Maddie Miller

(Story/Media)

Jan 03, 2017

College Corner: Steph Mills

(Story/Media)

Dec 24, 2016

Dudes on Food: Christmas Edition

(Story)

Dec 22, 2016

Bellwood-Antis Christmas Wishes

(Story)

Dec 18, 2016

Dudes on Food: Deer Camp Edition

(Story)

Dec 14, 2016

COLLEGE CORNER: Aaron Andrews

(Story)

Dec 14, 2016

COLLEGE CORNER: Aaron Andrews

(Story/Media)

Dec 09, 2016

Middle Schools cope with rising suicide numbers

(Story)

Dec 07, 2016

B-A freshmen earn dance scholarships

(Media)

Dec 07, 2016

Six Students Selected for Honors Band

(Media)

Nov 24, 2016

Dudes on Food: Thanksgiving Edition

(Story)

Nov 18, 2016

College Corner: Sawyer Kline

(Story/Media)

Nov 15, 2016

B-A students meet with Water for South Sudan organizer

(Story/Media)

Nov 12, 2016

Dudes on Food: school lunches edition

(Story)

Nov 05, 2016

Dudes on Food: chicken wings edition

(Story)

Nov 01, 2016

BOOKLIGHT: More Happy Than Not

(Story)

Oct 29, 2016

Dudes on Food: foreign foods edition

(Story)

Oct 27, 2016

8 from B-A advance to District chorus

(Media)

Oct 26, 2016

Picking the perfect Halloween get-up

(Story)

Oct 20, 2016

Rules, rules as iPads roll out

(Story)

Oct 14, 2016

Yearbook and Leo Club collaborate for winter dance

(Story/Media)

Oct 14, 2016

B-A band recruiting at Myers

(Story)

Oct 05, 2016

Dudes on Food: breakfast edition

(Story)

Sep 29, 2016

Teachers go back to school for iPad training

(Story/Media)

Sep 23, 2016

Supply can't meet demand in teaching profession

(Story/Media)

Sep 16, 2016

BAHS jumps into the 21st Century!

(Story/Media)

Sep 13, 2016
Sep 11, 2016

Where were you that day?

(Story)

Sep 02, 2016

Pricey Pens are the problem

(Story/Media)

May 29, 2016

Memorial Day service scheduled for Sunday

(Media)

Dec 05, 2015

BOOKLIGHT: We Were Liars

(Story)