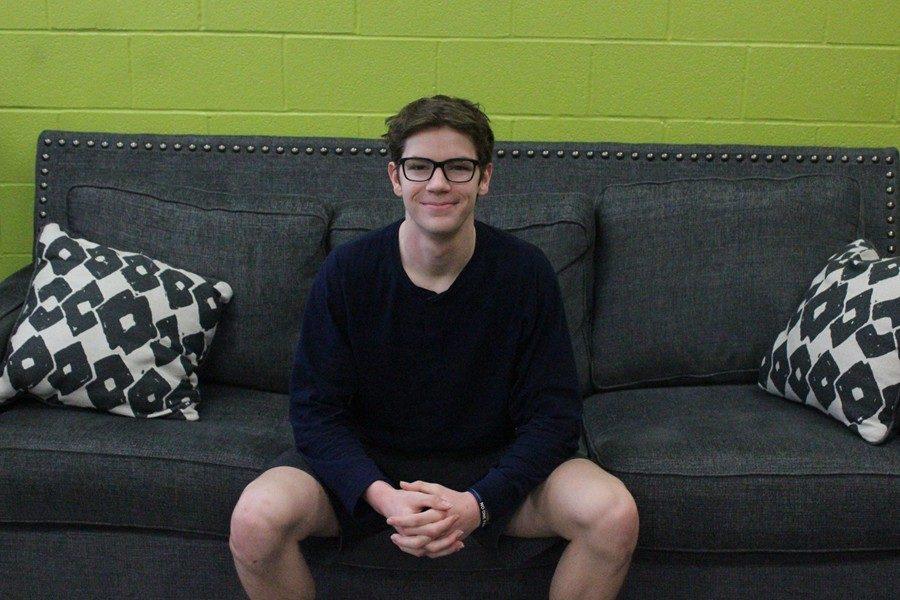 My name is Joe Padula, and I am a senior. This is my second year in BluePrint.
I cover a variety of stories for our publication, from news to sports to features, and I have served as the photographer on several photo shoots.
Outside of school, I enjoy playing basketball, and I am a member of the Bellwood-Antis varsity team. I am also a letter-winner on the baseball team.
Through BluePrint, I would like to communicate the day-to-day happenings at our school, and improve as a writer.
Joe Padula, Staff Writer
May 09, 2017

Blue Devils continue ICC dominance

(Story)

Apr 26, 2017

Softball team's streak comes to an end

(Story)

Apr 18, 2017

Softball teams wins second straight

(Story)

Apr 06, 2017

B-A falls to Blue Pirates

(Story)

Apr 01, 2017

Softball team falls to 0-2

(Story)

Mar 24, 2017
Mar 07, 2017

Athlete of the Week: Brendan Kowalski

(Story)

Feb 27, 2017

B-A girls prepare for Bishop Guilfoyle in semis

(Story)

Feb 06, 2017

Lady Devils win Pink Game again

(Story/Media)

Feb 02, 2017

Middle school Students of the Week announced

(Story)

Feb 02, 2017

Extracurricular activities should be mandatory

(Media)

Feb 02, 2017

Travel sports are anything but pointless

(Media)

Feb 02, 2017

Extra-curriculars provide valuable life lessons

(Media)

Jan 31, 2017

Lady Blue Devils win big

(Story)

Jan 25, 2017

Blue Devil grapplers fall to Trojans

(Story)

Jan 18, 2017

B-A wins ICC Showdown

(Story)

Jan 13, 2017
Jan 03, 2017

Lady Devils take Reliance Bank title

(Story)

Dec 14, 2016

Lady Devils lose in first round

(Story)

Dec 12, 2016

Lady Blue Devils falter in title game

(Story)

Dec 07, 2016

BMOC: Riley D'Angelo

(Story)

Dec 02, 2016

BA offense enjoys record setting season

(Story)

Nov 22, 2016

Just Juniors: Alexis Parson

(Media)

Nov 08, 2016

Bellwood-Antis students participate in mock election

(Story)

Nov 04, 2016

Handicapping the Class AA field

(Story)

Nov 04, 2016

Devils begin chase for a title

(Story)

Oct 28, 2016

Devils look for nine in a row

(Story)

Oct 21, 2016

Game against Southern could be a playoff preview

(Story)

Oct 14, 2016

Lots at stake for B-A against Mount Union

(Story)

Oct 07, 2016

Blue Devils look to continue ICC dominance

(Story)

Oct 03, 2016

What's the purpose of education?

(Media)

Sep 30, 2016

Devils and Pirates duel in ICC showdown

(Story)

Sep 23, 2016

B-A tries to stay unbeaten at home on Homecoming

(Story)

Sep 16, 2016

B-A faces Everett in major test

(Story)

Sep 09, 2016

Devils want a fast start against C-K

(Story)

Sep 04, 2016

ATHLETE OF THE WEEK: Taneyhill ignites B-A offense

(Story)

Sep 01, 2016

Blue Devils look to rebound against Glendale

(Story)

Jun 01, 2016
May 25, 2016

Ball Park Roadies

(Story)

May 18, 2016

Middle school students inducted into Honor Society

(Story)

May 11, 2016

Girls basketball boosters sponsoring 5K race

(Story)

May 05, 2016

First round of 2016 NBA playoffs recap

(Story)

Apr 27, 2016

Softball team wins ugly over Mt. Union

(Story)

Apr 15, 2016

Track & field teams get the sweep

(Story)

Apr 08, 2016

Students celebrate opening week of baseball at lunches

(Story)

Apr 01, 2016

Softball team 10-runs Juniata Valley

(Story)

Mar 31, 2016

Myers talent show set for tonight

(Story)

Mar 30, 2016

Softball team rallies to down ICC rival

(Story)

Mar 22, 2016

B-A sophomore wins national twirling competition

(Story)

Mar 21, 2016

Unsung Hero: Mrs. Litz

(Media)

Mar 18, 2016

Albright advances to All-State Chorus

(Story)

Mar 16, 2016

B-A twirlers excel at Altoona competition

(Story)

Mar 15, 2016

Student Teacher Feature: Ms. Pecile

(Story/Media)

Mar 14, 2016

Feature Teacher: Senorita Parker

(Story)

Mar 03, 2016

Stop worshipping Steph

(Media)

Mar 02, 2016

Super Senior: Brennan Mckendre

(Story/Media)

Feb 29, 2016

BluePrint writers earn statewide honors

(Media)

Feb 01, 2016

Dehydration is an issue at school

(Story)

Jan 22, 2016

Swaney reaches career milestone

(Story)

Jan 19, 2016

Swaney logs No. 400 as girls top Juniata Valley

(Story)

Jan 14, 2016

Girls never let up at Mount Union

(Story)

Dec 17, 2015

The fans awaken at Bellwood-Antis

(Story/Media)

Nov 25, 2015
Nov 25, 2015

BAHS mulls the idea of a share table

(Media)

Nov 20, 2015

McNaul-gate sparks controversy among faculty, students

(Media)

Nov 18, 2015

Panasiti, Hollen named Mountain League MVP's

(Story)

Nov 13, 2015

Class A preview: Marauders are still really good

(Story)

Nov 06, 2015

Bellwood-Antis Halloween

(Media)

Nov 06, 2015

Passing the Torch

(Story)

Oct 30, 2015

It's Frankenstein Day! (and Halloween)

(Media)

Oct 30, 2015

Featured Alumni: Rachel Albright

(Story)

Oct 09, 2015

Blue Devils look to get Hayes No. 300

(Story)

Oct 02, 2015

Blue Devils look for big win

(Story)

Sep 25, 2015

Heading into a Hornets' nest?

(Story)

Sep 17, 2015

Football team looks to bounce back against West Branch

(Story)

Sep 03, 2015

Feature teacher: Mr. Martin

(Story/Media)