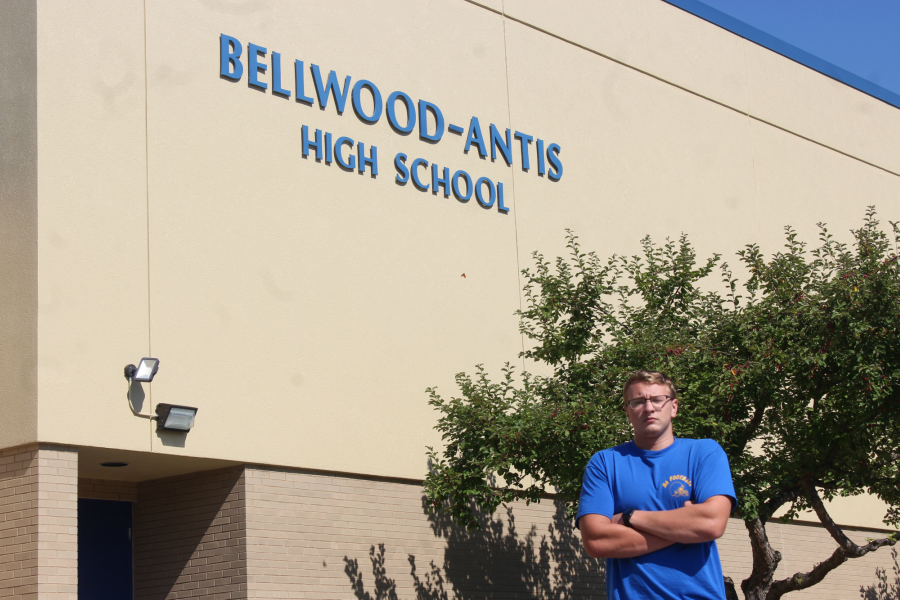 Aarron Laird
Grade: 11th
Number of years in BluePrint: 1
Activities
Football, wrestling, track, FFA, FCA, Junior firefighter, First responders club, Mini-Thon, NHS, and The Sons of the American Legion.
Job Details
I do a combination of things, I write stories, edit stories, and edit the page.
Why I joined BluePrint
I love writing, so I thought it would be fun and I heard a lot of good things about it.
Fun Fact(s)
I love pizza, I love working with computers, and my favorite number is 7.
Aarron Laird, Page Editor
Jan 12, 2021

Lunches at BAHS undergo changes for hybrid

(Story)

Jan 07, 2021

FEATURE TEACHER: Mrs. Harris

(Story)

Dec 23, 2020

Myers students stay on track during virtual learning

(Story)

Dec 14, 2020

The BluePrint's top new stories of 2020

(Media)

Dec 07, 2020

BA security department stays busy with students gone

(Story)

Nov 25, 2020

Teachers share their best Thanksgiving memories

(Story)

Nov 24, 2020

ATHLETE OF THE WEEK: Bryson Guyer

(Story)

Nov 23, 2020

Morning Announcements 11-23-20

(Story)

Nov 10, 2020

William Sitman died to save his platoon

(Story)

Oct 30, 2020

BA reinforces COVID guidelines

(Story)

Oct 29, 2020

Morning Announcements 10-29-20

(Story)

Oct 28, 2020

Morning Announcements 10-28-20

(Story)

Oct 28, 2020

SPOT LIGHT ON STAFF: Caroline Nagle

(Story)

Oct 27, 2020

Emotional needs stay the same amid COVID crisis

(Story)

Oct 27, 2020

Morning Announcements 10-27-20

(Story)

Oct 26, 2020

Morning Announcements 10-26-20

(Story)

Oct 26, 2020

Morning Announcements 10-22-20

(Story)

Oct 21, 2020

BA HISTORY: Bellwood-Antis Library

(Story)

Oct 20, 2020

Morning Announcements 10-20-20

(Story)

Oct 19, 2020

Morning Announcements 10-19-20

(Story)

Oct 16, 2020

The BluePrint Buzz

(Story)

Oct 16, 2020

Morning Announcements 10-16-20

(Story)

Oct 15, 2020

Morning Announcements 10-15-2020

(Story)

Oct 14, 2020

Morning Announcements 10-14-2020

(Story)

Oct 13, 2020

Morning Announcements 10-12-2020

(Story)

Oct 13, 2020

Grade levels at B-A choose officers

(Story)

Oct 12, 2020

SPOT LIGHT ON STAFF: Rorie Wolf

(Story)

Oct 12, 2020

Morning Announcements 10-9-2020

(Story)

Oct 12, 2020

Morning Announcements 10-8-2020

(Story)

Oct 12, 2020

Morning Announcements 10-7-2020

(Story)

Oct 12, 2020

Morning Announcements 10-6-2020

(Story)

Oct 06, 2020

What classes look like during COVID-19

(Story)

Oct 02, 2020

SPOT LIGHT ON STAFF: Emalee Strong

(Story)

Oct 02, 2020

Morning Announcements 9-2-2020

(Story)

Oct 01, 2020

Morning Announcements 10-1-2020

(Story)

Oct 01, 2020

The Keystone is back

(Story)

Sep 30, 2020

Morning Announcements 9-30-2020

(Story)

Sep 29, 2020

Morning Announcements 9-29-2020

(Story)

Sep 28, 2020

SPOT LIGHT ON STAFF: Aarron Laird

(Story)

Sep 28, 2020

Morning Announcements 9-28-2020

(Story)

Sep 25, 2020

What happens when the internet goes down at B-A?

(Story)

Sep 25, 2020

Morning announcements 9-25-2020

(Story)

Sep 24, 2020

Speech League elects new officers

(Story)

Sep 24, 2020

Morning Announcements 9-24-2020

(Story)

Sep 16, 2020

Bellwood band has a new YouTube channel

(Story)

Sep 15, 2020

Masks in sports add another level of challenges

(Story)

Sep 14, 2020

COVID-19 restrictions hamper FFA activities

(Story)