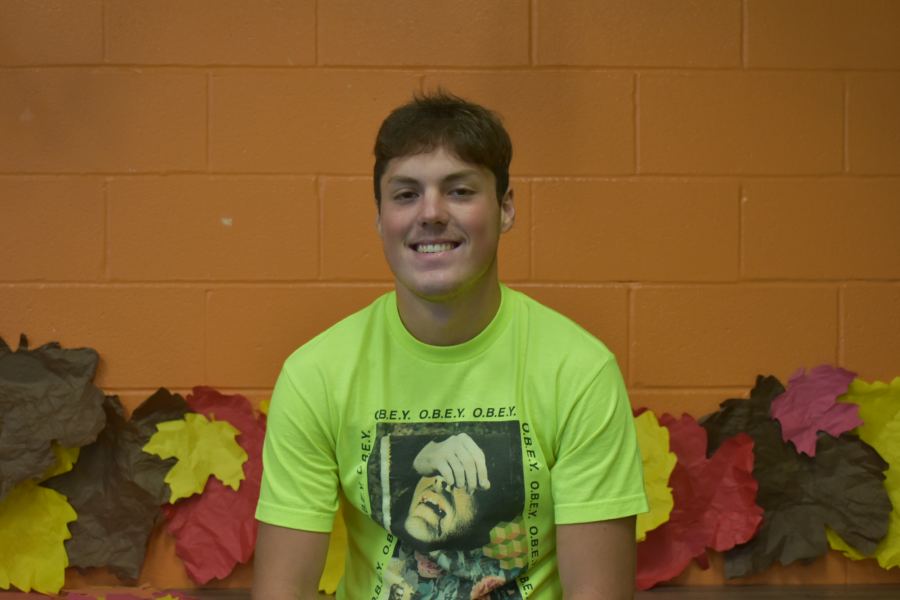 How many years have you been in Blueprint?
I have been in Blueprint for three years.
What would you like to do this year?
I would like to become an SNO distinguished site, and write many meaningful stories for the Blueprint.
What grade are you in?
I am in 12th grade.
Why did you take Blueprint?
I took Blueprint because I've had a great experience in the past years and its definitely a great class.
Troy Walker, Sports Editor
May 17, 2020

The Last Dance concludes an amazing story

(Story)

Apr 28, 2020

Female Senior Athlete of the Year: Alli Campbell

(Story)

Apr 18, 2020

PIAA cancels sports for remainder of year

(Story)

Mar 11, 2020

Lady Devils survive and advance

(Story)

Mar 06, 2020

Lady Devils looking for three-peat

(Story)

Mar 03, 2020

Cheating scandal rocks baseball world

(Story)

Feb 28, 2020

Lady Devils Grab Third Seed

(Story)

Feb 25, 2020

Lady Devils upset in semifinals

(Story)

Feb 20, 2020

Haralson Scores 1,000th point, B-A Advances

(Story)

Feb 18, 2020

Lady Devils win ICC for third straight season

(Story)

Feb 13, 2020

Running out of time

(Story)

Feb 10, 2020

Lady Devils secure weekend victory

(Story)

Feb 07, 2020

Lady Devils grab Senior Night victory

(Story)

Feb 04, 2020

B-A uses win to prepare for non-conference test

(Story)

Jan 31, 2020

Lady Devils' 28-game win streak snapped

(Story)

Jan 30, 2020

Lady Devils travel to Valley for ICC showdown

(Story)

Jan 29, 2020

Limited tickets for B-A at JV

(Story)

Jan 28, 2020

Lady Devils remain undefeated; boys fall to Mount Union

(Story)

Jan 24, 2020

Lady Devils Improve to 15-0

(Story)

Jan 22, 2020

B-A wrestlers dominate Southern Huntington

(Story)

Jan 16, 2020

ATHLETE OF THE WEEK: Emilie Leidig

(Story)

Jan 15, 2020

Alli Campbell breaks historic scoring record

(Story)

Jan 13, 2020

Coach Swaney grabs historic 500th win

(Story)

Jan 10, 2020

B-A Toughens up late in non-conference win

(Story)

Jan 07, 2020

Lady Devils pass tough ICC test

(Story)

Jan 02, 2020

Lady Devils victorious in Reliance Bank Tournament

(Story)

Dec 17, 2019

Pellegrine places third at Panther Holiday Classic

(Story)

Dec 12, 2019

Lady Devils Pour in 99 Points in ICC Victory

(Story)

Dec 09, 2019

Lady Devils Dominate In Win At The Backyard Brawl

(Story)

Dec 06, 2019

Lady Blue Devils aiming for three-peat

(Story)

Nov 18, 2019

Football team makes donation for breast cancer

(Story)

Nov 14, 2019
Oct 29, 2019

Lady Blue Devils advance in playoffs

(Story)

Oct 28, 2019

Lady Devils drop Backyard Brawl, advance to playoffs

(Story)

Oct 21, 2019

Johnston breaks scoring record in loss to Huntingdon

(Story)

Oct 16, 2019

Volleyball evens record; girls soccer loses

(Story)

Oct 15, 2019

Soccer team falls to Central

(Story)

Oct 11, 2019

Johnston ties scoring mark in victory

(Story)

Oct 11, 2019

Blue Devils prepare for Mount Union

(Story)

Oct 09, 2019

Johnston nears scoring record in soccer victory

(Story)

Oct 08, 2019

Co-op Team Secures Double-OT victory

(Story)

Oct 03, 2019

ATHLETE OF THE WEEK: Ashley Yohn

(Story)

Oct 02, 2019

Lady Devils resilient in victory

(Story)

Sep 25, 2019

Soccer team ties Huntingdon

(Story)

Sep 19, 2019

Co-op soccer team loses heart-breaker

(Story)

Sep 18, 2019

Girls soccer and volleyball lose matches

(Story)

Sep 17, 2019

Volleyball and soccer lose

(Story)

Sep 16, 2019

Luensmann Commits to SC

(Story)

Sep 13, 2019

Co-op Soccer Team Improves to 3-1

(Story)

Sep 12, 2019

Co-op soccer team defeats Penns Valley

(Story)

Sep 06, 2019

Soccer team loses after holding 2-0 lead

(Story)

Sep 04, 2019

Soccer team gets first win for Coach Bartlett

(Story)

Aug 30, 2019

Baseball Team to Hold 4th Annual Golf Outing

(Story)

May 07, 2019

Pellegrine places third at regional wrestling event

(Story)

Apr 30, 2019

Devils take B-A Invitational title

(Story)

Apr 22, 2019

Campbell named PA Player of the Year by USA Today

(Story)

Apr 16, 2019

Softball team wins again

(Story)

Apr 11, 2019

Bellwood track takes on JV and Southern Fulton

(Story)

Apr 08, 2019

Softball team falls in extra innings

(Story)

Apr 02, 2019

Softball team earns first victory

(Story)

Mar 22, 2019

Track teams should be strong again

(Story)

Mar 18, 2019

Lady Devils play in Final Four tonight

(Story)

Mar 13, 2019

Lady Devils survive and advance

(Story)

Feb 14, 2019

ATHLETE OF THE WEEK: the countdown to 2,000

(Story)

Feb 08, 2019

B-A girls move to ICC title game

(Story)

Jan 29, 2019

B-A girls closing in on milestones

(Story)

Jan 28, 2019

Three is a magic number

(Story)

Jan 11, 2019

Lady Devils knock off unbeaten Damsels

(Story)

Jan 09, 2019

Lady Devils make statement against Hornets

(Story)

Jan 04, 2019

OPINION: Football playoff is flawed, but controversy would be there either way

(Story)

Dec 12, 2018

Lady Devils come out on top

(Story)

Dec 06, 2018

Lady Devils look to defend title

(Story)

Nov 01, 2018

Johnston named MVP

(Story)

Oct 31, 2018

Favorable bounces spell doom for soccer team

(Story)

Oct 30, 2018

Volleyball team ousted in first round

(Story)

Oct 29, 2018

Shaulis sends soccer team to championship game

(Story)

Oct 24, 2018

Powder Puff game coming Sunday

(Story)

Sep 24, 2018

Kaepernick Just Did It

(Story)

Sep 17, 2018
Sep 05, 2018

Lady Devil spikers open with win at Glendale

(Story)

Sep 05, 2018

Volleyball team has high hopes for season

(Story)

Jun 02, 2017

Community youth encouraged to ride free

(Story)

May 17, 2017

Wolfe places third at PSU math contest

(Story)

May 09, 2017

B-A celebrates Teacher Appreciation Week

(Story)

May 03, 2017

Softball team draws even

(Story)

Apr 25, 2017

Freshmen earn third straight incentive reward

(Story)

Apr 19, 2017

Backyard Brawl t-shirt contest to use twitter voting

(Story)

Mar 28, 2017

BluePrint brackets busted

(Story)

Mar 22, 2017

Music Department plans Footloose spirit week

(Story)

Mar 16, 2017

The perfect bracket

(Story)

Mar 10, 2017

BluePrint named top student news site in PA

(Story)

Mar 06, 2017

Mrs. Chamberlin releases Window to the Past

(Story)

Feb 15, 2017

2003 state championship team looking for entry into Blair Hall

(Story)

Jan 31, 2017

BMOC: Jake Miller lives the hockey life

(Story)

Jan 30, 2017

B-A hosts Junior High County Band

(Story)

Jan 12, 2017

Lady Devils squeeze out a win over Everett

(Story)

Jan 10, 2017

Game of the century

(Story)

Jan 09, 2017

Swogger sink's milestone basket in blowout win over West Branch

(Story)

Dec 21, 2016

Lady Devils surge in second half for win

(Story)

Dec 15, 2016

B-A boys fall to Moshannon Valley

(Story)

Dec 14, 2016

Grapplers lose to Mo Valley, take 3rd at Conemaugh Twp.

(Story)

Dec 06, 2016

Lady Devils set sights in PIAA title

(Story)

Nov 30, 2016

Five Blue Devils make ICC first team

(Story)

Nov 23, 2016

McElwain makes it official

(Story)

Nov 14, 2016

Top college football uniforms

(Story)

Nov 08, 2016

Playing for the man

(Story)

Nov 07, 2016

B-A grad Miller excelling in Army ROTC

(Story)

Oct 24, 2016
Oct 20, 2016

Soccer drops one to Valley; Cross country competes in ICC meet

(Story)

Oct 17, 2016

Top of the ICC: junior high wins it all

(Story)

Oct 07, 2016

Controversial decision sends Hollen home early

(Story)

Oct 06, 2016

3 Keys with Tina Hollen

(Story)

Oct 05, 2016

Tyrone/Bellwood Co-Op soccer puts up 6 goals in win vs. Central

(Story)

Sep 30, 2016

One week, two legends

(Media)

Sep 28, 2016

See You at the Pole a huge success in 2016

(Story)

Sep 15, 2016

Out of the Darkness walk

(Story)

Sep 09, 2016

B-A runs away with a huge win over Tyrone

(Story)

Sep 03, 2016

Baseball team plans to hold golf tournament

(Story)