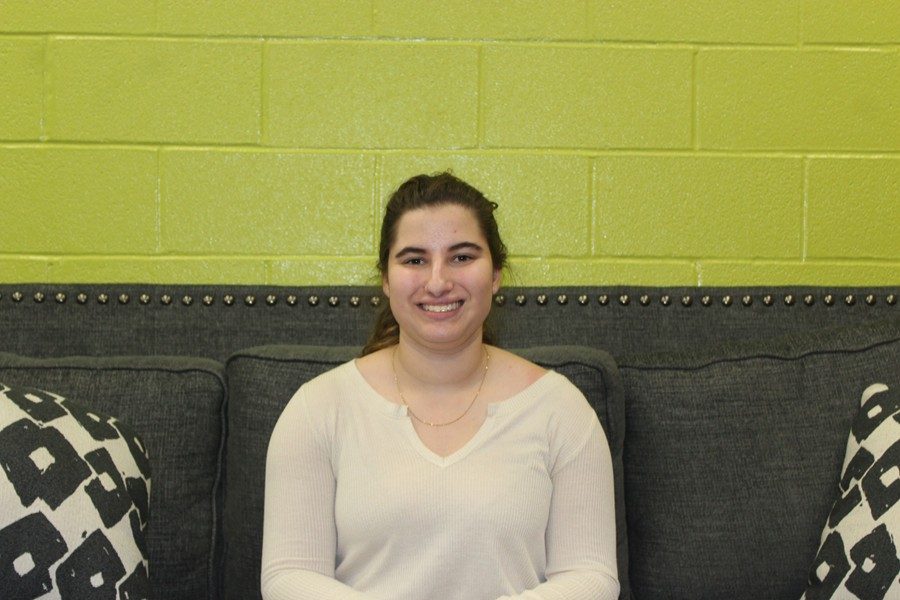 My name is Myranda Mamat and I have been in BluePrint for four years now. I write mostly on events that are happening around Bellwood, and I compose the occasional blog.
I hope to bring new information to students and parents about the community. In terms of other activities, I am secretary of the Senior Class and participate in golf and softball.
Outside of school you can find me with my friends, writing, playing golf, or on Tumblr.
Myranda Mamat, Daily Dish Co-Editor
May 31, 2017

Top 10 news stories of the year

(Story)

May 16, 2017

Twirling team named Atlantic Champions

(Story)

May 15, 2017

BOOKLIGHT: Pygmalion

(Story)

Apr 26, 2017

B-A chorus performs for Red Hats

(Story)

Apr 25, 2017

B-A to hold annual STEM night

(Story)

Apr 21, 2017

POD classes raise money for Darfur

(Story)

Apr 05, 2017

Band hosting Olive Garden fundraiser

(Story)

Mar 24, 2017

Meet the Footloose leads

(Story)

Mar 21, 2017

Ed Sheeran releases new album

(Story)

Mar 21, 2017

Sophomore creates own Lego video

(Story)

Mar 10, 2017

What is the future of the library?

(Story)

Feb 16, 2017

Baby you're so classic

(Story)

Feb 10, 2017

Five from B-A advance to state SkillsUSA competition

(Media)

Feb 07, 2017

BA Band's Texas Roadhouse Fundraiser

(Story)

Jan 21, 2017

Resolutions the crazy ones and the realistic ones

(Story/Media)

Dec 13, 2016

Day in the Life: Ms. Clippard

(Story)

Oct 27, 2016

PA considers citizenship tests to graduate

(Story/Media)

Oct 16, 2016

Larimer and Rimmey continue their rise in the music industry

(Story)

Sep 28, 2016

September 28: Morning Announcements

(Story)

Sep 27, 2016

Top 9 shows to get ready to watch

(Story)

Sep 20, 2016

2016 Homecoming court announced

(Story)

Sep 12, 2016

Corporal punishment in schools: who does that?

(Story)

May 31, 2016

Kerri Little ready to address Class of 2016

(Story)

May 26, 2016
May 19, 2016

Get Caught Reading Month

(Story/Media)

May 13, 2016

Friday the 13th

(Story/Media)

May 06, 2016

No Homework Friday

(Story)

Apr 29, 2016

Hug a tree. It's Arbor Day

(Story/Media)

Apr 20, 2016
Apr 11, 2016

Be kind to animals

(Story)

Mar 18, 2016

Music In Our Schools Month

(Media)

Mar 18, 2016

The Final Push: Pop Tabs For Service Dogs

(Media)

Mar 15, 2016

It's about darn time!

(Story/Media)

Mar 11, 2016
Mar 10, 2016

This is your brain on drugs (allegedly)

(Media)

Mar 04, 2016

National Unplug Day

(Story)

Feb 26, 2016
Feb 24, 2016

An personal testament to libraries

(Story/Media)

Feb 09, 2016

The Beatles in America

(Story)

Feb 05, 2016

Ways to Beat The Winter Blues

(Story)

Feb 03, 2016

The Day the Music Died

(Story)

Jan 29, 2016

Hobby Month

(Story/Media)

Jan 29, 2016

BA Hosts District Band

(Story)

Jan 20, 2016
Jan 16, 2016

It's just a do nothing day

(Story)

Jan 06, 2016

National Technology Day

(Story)

Dec 10, 2015
Dec 07, 2015

St. Nick's Day is a part of the holiday season

(Story)

Nov 27, 2015
Nov 25, 2015

BAHS mulls the idea of a share table

(Story)

Nov 20, 2015

Beautiful Day Day

(Story)

Nov 10, 2015

We honor veterans on this day

(Story)

Nov 06, 2015
Oct 29, 2015

National Candy Corn Day

(Story/Media)

Oct 23, 2015

TV Talk Show Host Day

(Story)

Oct 14, 2015

National Dessert Day

(Story)

Oct 05, 2015

National Do Something Nice Day

(Story/Media)

Oct 02, 2015

National Name Your Car Day

(Story)

Sep 26, 2015

Featured Alumni: Laura Cherry

(Story)

Sep 24, 2015

It's Punctuation Day!

(Story)

Sep 11, 2015

Sensational Sophomores: Noah Aiken

(Media)

Sep 02, 2015

New to BA: Class Messenger

(Story)

May 29, 2015

Sensational Sophomore- Nevin Wood

(Story/Media)

May 27, 2015

B-A bats go cold in District title game

(Story)

May 08, 2015

BMOC: Trenton Creppage

(Story)

May 05, 2015

Albright and Misera are two of The Music Man's leading ladies

(Story)

Apr 17, 2015

BMOC: Record-setter Selena Damiano

(Story)

Apr 10, 2015

BA basketball players make All State

(Story)

Apr 01, 2015

Penn State Engineering Ambassadors visit Bellwood-Antis

(Story)

Mar 20, 2015

BMOC- Caroline Showalter

(Story)

Mar 17, 2015

Suicide rates rising for young women

(Story/Media)

Mar 06, 2015

Sensational Sophomore: Jasmine McCoy

(Story)

Feb 19, 2015

BA seniors advance to regional wrestling championships

(Story)

Feb 12, 2015
Jan 21, 2015

Respect Life March held over the weekend

(Story)

Jan 16, 2015

B-A students to participate in Respect for Life March in Tyrone

(Story)

Jan 16, 2015

Baby Agnes Doe continues to inspire respect for life

(Story)

Jan 09, 2015

Creppage makes All-State football team

(Story)

Jan 09, 2015

Big Man on Campus: Jeremy Wilson

(Story)

Nov 13, 2014

Veteran's Day Essay and Poem Winners

(Story)

Nov 07, 2014

Yearbook information for Seniors

(Story)

Nov 06, 2014

Alumnus Hannah Misera stars in Fahrenheit 451

(Story)

Oct 24, 2014

B-A set to recognize Red Ribbon Week

(Story)

Oct 06, 2014

Mrs. Padula takes over B-A's vaunted speech program

(Story/Media)

Sep 25, 2014

Athlete of the week: Isaac Mills

(Story)

Sep 25, 2014

Are seniors ready for college?

(Story)

Sep 04, 2014

Selfie board goes up outside library

(Story)

Sep 02, 2014

AP Lit Students Raising Funds for Euro Trip

(Story)

Jun 04, 2014

End of the Year Blues

(Story)

May 27, 2014

Myers Fourth Graders Raise Money for Sudan

(Story)

May 23, 2014

Alumni Chorus Surprises Bower and Wright

(Story)

May 21, 2014

B-A Represented at Blair County Arts Festival

(Story)

May 05, 2014

It's Not the Size of the Part; It's the Quality of the Actor

(Story)

Apr 16, 2014

Light It Up Blue: Freshman Brandon Bickle

(Story)